4 Great Websites to Find Free Sheet Music
If you've been searching far and wide for free sheet music then you've come to the right place! We've put together a list of four great websites to find free sheet music so whether you play the piano, saxophone, violin, flute, guitar or any other instrument at a beginner, intermediate or advanced level, these free sheet music websites and apps are the best place to start. We've summarised what each free sheet music website and app has to offer, and added a handy table of pros and cons.
1. Tomplay
▶️ Get free unlimited 14-day access to over 60,000 sheet music titles for all instruments and all levels
Let's get started with, of course, Tomplay! We offer a variety of sheet music titles for various instruments, from piano and violin to sax and guitar. You can access the sheet music titles directly on our website or download them using our sheet music app, which includes a few free scores to try out too.
Tomplay offers thousands of classical, pop and jazz sheet music titles with backing tracks so you can learn and play your favourite pieces accompanied by high-quality recordings made by professional musicians. Do you play the piano? With Tomplay you can choose from a myriad of scores for solo piano with the option of practising one hand accompanied by a recording of the other hand, or play in a duet, four-hands or accompanied by an orchestra!
Or are you a sax or flute player? Well then no need to find a pianist to accompany you any more - you can simply choose one of our many scores with a piano backing track. You'll also find trios, quartets and quintets, as well as pieces with an orchestra to accompany you.
Our catalogue now includes over 60,000 sheet music titles for 28 instruments. Plus, our pieces are arranged in a variety of levels from beginner and intermediate to advanced so everyone can play their favourite pieces. The Tomplay sheet music app also offers a variety of features to help with learning. For example, you can change the tempo to suit your level, record yourself and listen back to your performance, practise passages in a loop, or use the visual aid if you can't read music perfectly. If you want to try out Tomplay, you can sign up for a 14-day free trial on our website.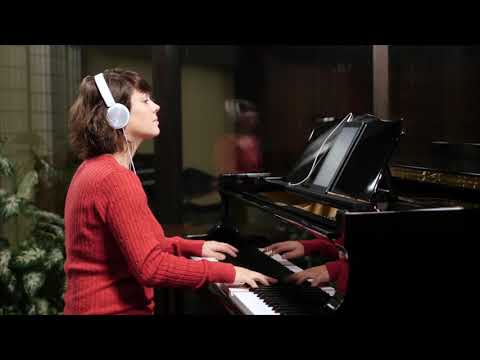 Pros

Cons

Over 60,000 sheet music titles arranged by professional musicians and teachers for all instruments and levels (from beginner to advanced).

Play with the orchestra or band! Tomplay sheet music includes high-quality, play-along recordings made by professional musicians.

Use our interactive learning features to help you progress quicker! Use the visual instrument below the score to help you read music notes, slow down the tempo, annotate the sheet music, record and listen back to yourself, and practise difficult passages in a loop.

Print your sheet music

Accessible on all your devices (PC/Mac version, iOS app and Android app).

Not all sheet music titles can be transposed.

Catalogue for some instruments is still limi

ted.
Head to Tomplay to explore our free sheet music for piano, violin, viola, cello, saxophone, flute, recorder, clarinet, trumpet, trombone, guitar, bass, drums, percussion, French horn, tenor horn, tuba, euphonium and oboe!
2. IMSLP
The International Music Score Library Project (IMSLP), also known as the Petrucci Music Library, is a digital library sheet music app for public domain music, i.e., music which is no longer copyrighted, so mainly classical music. The project began in 2006 and its main aim is to make public-domain music accessible online for free. It is available for both iOS and Android.
Pros

Cons

Vast music library - It currently has over 698,000 free sheet music titles.

It's a fantastic resource for classical musicians, and you can filter by instrument, composer, time period, and more.

It's very well organised and easy to search for pieces.

There is free sheet music for beginner piano, sax, violin and more.

Only non-copyrighted music - you won't find any pop/rock music in the library.

There are advertisements displayed for several seconds before you gain access to the free sheet music.

Unlike other free sheet music apps in this article, IMSLP does not offer interactive features.
3. Free Scores
Free-scores.com is a website that offers free sheet music, although they also offer links to paid sheet music with other vendors. The free sheet music section is clearly indicated on the website and the filter section allows you to choose what type of ensemble you're looking for (trio, quartet, etc.). You can preview the score before downloading it plus many free sheet music titles include an audio download too. Other perks of Free Scores include the vast number of instruments on offer (for example, the bagpipes!) and the user-created arrangements.
Pros

Cons

Great selection of free sheet music titles.

To access extra features you simply need to sign up for a free member account.

Wide range of instruments (including the bagpipes!)

Mainly classical/contemporary music so no pop/rock.

No playback option, no interactive learning features.

Some scores are used-generated and contain mistakes/are not well-arranged for the instrument.
4. MuseScore
MuseScore is primarily a music notation app for iPad, iPhone, Android, PC and Mac. This free sheet music app is open source and offers a vast music library from its free sheet music website musescore.com (the notation element is musescore.org). The library includes both official scores and user-made music.
There is an incredible collection of free sheet music on MuseScore with many pieces being re-arranged by users so there are several levels available and the library is continually growing. However, as the majority of scores are user-made, quality can be a real issue.
Pros

Cons

Vast library of free sheet music

Free sheet music app

Users can add their own arrangements so the library is continually growing.

The majority of scores are created by users. Quality is an issue, scores contain many mistakes and are not well arranged for the different instruments.

Most of the scores are too hard to play.

Poor quality MIDI playback, no interactive learning features.

If you want access to all features on offer you need to subscribe.