The 10 most beautiful piano love songs to play at a wedding (with sheet music)
Are you considering popping the question? Or know somebody who did? Either way, as a pianist, you are probably already focusing on the most crucial point: the music. We have gathered for you a selection of the most beautiful piano love songs to play at a wedding. Each piece comes in different levels of difficulty (from beginner to advanced) and with a band audio accompaniment that will surely impress your guests!
It's time to express your feelings with Tomplay and our piano love songs selection below:
1. When a Man Loves a Woman
Calvin Lewis and Andrew Wright were members of Percy Sledge's group The Esquires. During a practice session, Wright created the famous keyboard riff that will become the centrepiece of the song and asked Lewis to write matching lyrics. They presented it to Percy Sledge who liked it and, after some few changes, the song was recorded and released in April 1966. The song was an immediate hit in the US and UK. It even reached the 53rd position of the Rolling Stone's 500 Greatest Songs of All Time. It got covered several times, including by Bette Midler and Michael Bolton.
Claim your passion with Tomplay and our various arrangements of the love song When a Man Loves a Woman for different difficulty levels, for piano solo or with an orchestra accompaniment.
2. Everything I Do, I Do It for You
Everything I do, I do it for you was written in 1990 by Bryan Adams and Robert John Lange in only 45 minutes! And still: the ballad became an instant success, being number one in almost 20 countries, breaking chart ranking records in the US, UK, Canada etc. The song was also used in the Robin Hood: Prince of Thieves movie soundtrack, whose stellar casting included Kevin Costner and Morgan Freeman. The song has since been covered by hundreds of artists, including Brandy and The Countdown Sisters.
Sing to the one who stole your heart with our wedding piano love song versions of Everything I Do, I Do It for You, arranged for different levels of practice by Tomplay.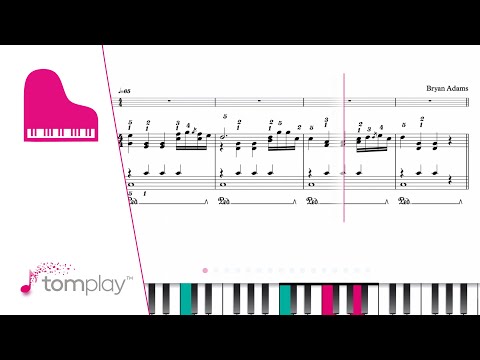 3. Come Away With Me
Come Away With Me is the song title of Norah's Jones first album released in 2002 by the legendary Blue Note Records label. Jones wrote, produced and composed the song and it was released as the third single of the album. The song itself had relative success and was included in the movie Maid in Manhattan. However, the album took both public and critics by storm: at only 23, she managed to have her debut album sold more than 11 million copies in the US alone, winning a Diamond certificate, while it also received 6 Grammy Awards, including "Album of the Year". Not bad, heh?
Ask the one you love to go in an adventure with you with the piano love song Come Away With Me arranged by Tomplay in different levels, from very easy to upper advanced and choose to play on your own or with an orchestra accompaniment.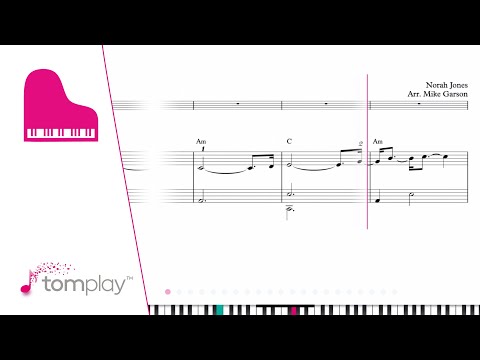 4. You Are So Beautiful
You Are So Beautiful was written in 1974 by Billy Preston and Bruce Fisher. It was first published on Preston's album the same year, who later admitted he had written it for his mom! However, the version we all know was released a few months later by the English singer Joe Cocker who did a slower version, in a different tonality that made it sound much more intimate. It was a relative success when it got released, but it earned its place in popular culture after it got used in countless movies and TV series, from The Simpsons to the Walking Dead. It also got covered dozens of times, including by Zucchero and Al Green.

Time to tell the most important woman in your life what she means to you with Tomplay and Joe Cocker's piano love song You Are So Beautiful, with an orchestra accompaniment and arranged in the level of your choice.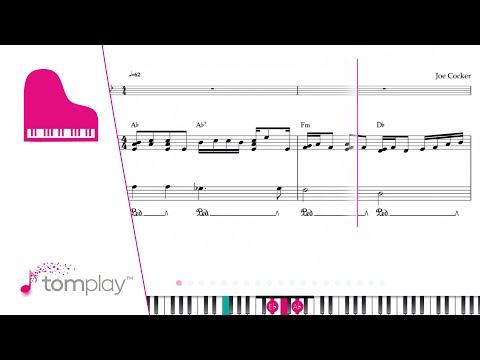 5. Unchained Melody
Unchained Melody was composed by Alex North and Hy Zaret in 1955. It was ordered to be featured in the movie Unchained- hence the title of the song. While the first release was recorded the same year by Todd Duncan, the most well-known version of the song was the one from The Righteous Brothers from 1965. It was used over and over again in movies, commercials, TV series, with the most noticeable one being the centrepiece of the movie Ghost. It is believed that the song was recorded over 1500 times since its creation and in multiple languages!
Celebrate the finally united lovers with Tomplay and the piano love song Unchained Melody arranged for several levels of practice. Piano solo or orchestra accompaniment? It's your choice!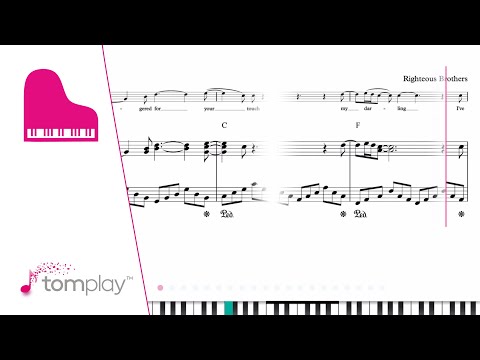 6. Perfect
Ed Sheeran wrote the romantic ballad Perfect in 2017 for his fiancée Cherry Seaborn. The two of them had met in school and lost touch but eventually got reunited again when she came working in New York. He produced the song himself and asked his brother Matthew to work on the strings orchestrations. The song was part of Sheeran's third album and was released as a single in September 2017. A second version of the song Perfect Duet was then recorded with Beyoncé, and a third one Perfect Symphony with Andrea Bocelli. The music video of the song received almost 3 billion views on YouTube!
Reach for perfection at your reception with the wedding love song Perfect arranged by Tomplay in multiple levels of difficulty, and play solo or with an orchestra accompaniment in front of your guests.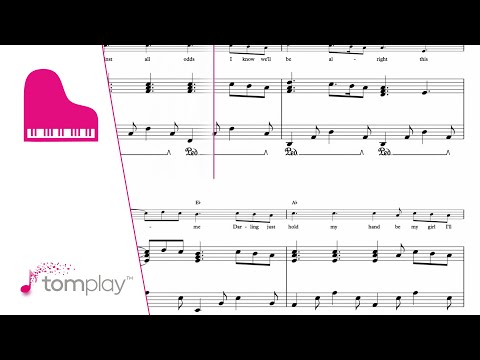 7. All Of Me
John Legend wrote All Of Me in 2013 and dedicated it to his then-fiancée the model Chrissy Teigen. The couple met in 2007 after they were introduced by the video director Nabil Elderkin. Legend premiered the song during a performance in an Oprah Winfrey's show before the song was released on iTunes a few weeks later. It became Legend's first number one in the US and the second best selling song for the year 2014. The music video of the song - directed by Elderking himself - features some shots of the two lovers in Italy a few days before their wedding and finishes with some footage of their actual wedding. The video hit more than 2 billion views and 11 million likes on YouTube!
Tell your other half how much you love everything she/he is with Tomplay and our wedding love piano song All Of Me arranged for different levels of difficulty, with or without an orchestra accompaniment. Struggling to keep up? You can slow down the tempo of the music score and practice until it becomes easy for you!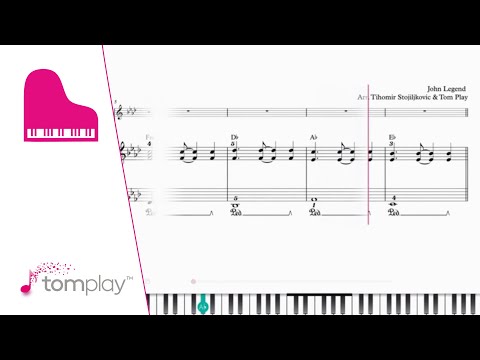 8. A Thousand Years
Christina Perri and David Hodges wrote A Thousand Years in 2011 as part of the soundtrack of Breaking Dawn-Part 1, the fourth episode of the Twilight movies saga. This episode features the marriage of Bella and Edwards, as well as Bella's (complicated) pregnancy. The song became a big success, mainly in the US where it became nine times Platinum certified for reaching 9 million digital downloads in the country! The music video features some clips of the movie and images of Perry singing in a room surrounded by lighted candles. It was once again a major hit on YouTube reaching almost 2 billion views and more than 12 million likes, making it one of the most 100 most-viewed YouTube videos of all time.
Write your love story beyond death with A Thousand Years arranged in several levels of difficulty by Tomplay and enjoy the option to play with an orchestra audio accompaniment for your wedding!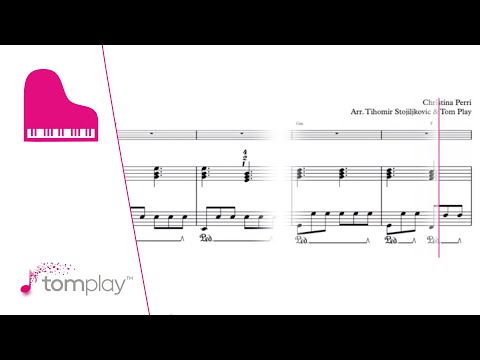 9. I Will Always Love You
I Will Always Love You was originally written by Dolly Parton in 1973, as she decided to part away from Porter Wagoner, her business partner and mentor, in order to pursue her solo career. It was later covered by Whitney Houston to be featured in the movie Bodyguard where she was also credited as the lead actress. While Parton's version was calm and sweet, Houston recorded a passionate and powerful interpretation of the lyrics. Her version stayed number one in the US charts for 14 weeks in a row, becoming one of the best-selling singles of all time- and the best one by a woman. The song was later covered by several other artists including Gloria Gaynor and Jennifer Hudson.
Thinking about being a runaway bride/groom? Then this song is for you! You can play I Will Always Love You (preferably before the ceremony) piano love song and choose from several levels of practice with Tomplay!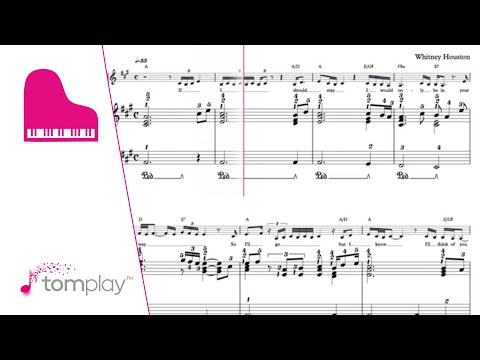 10. Can You Feel the Love Tonight
Can You Feel the Love Tonight was written in 1994 by Elton John and Tim Rice for the animated movie The Lion King. The movie soundtrack actually contains 2 versions of the song with different lyrics: one sung by the animated characters during a scene showing Simba and Nara starting to fall in love, the other one sung by Elton John during the final credits - the one we all know. The music video features some scenes of the movie montaged with some footage of John performing the song. The song was released as a single a few months before the movie and was an immediate success. It also won an Academy Award and a Golden Globe for the Best Original Song.
Display love all around you at your wedding with Can You Feel the Love Tonight arranged for multiple levels of difficulty by Tomplay and surprise your guest with a piano solo or an orchestra accompaniment.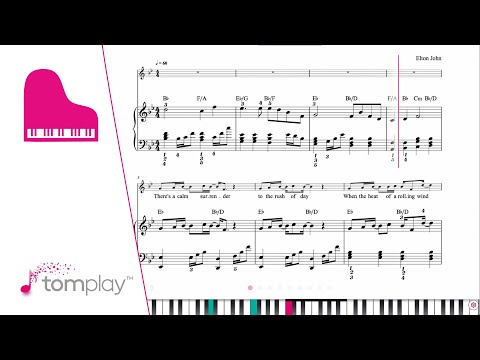 We hope you enjoyed our selection! You will find more wedding piano love songs below: