Where to find the best Drumless Tracks and Play Along for Drums?
Do you play drums? In this article, we'll tell you everything you need to know about backing tracks without drums; one of the greatest resources available to you as an instrumentalist. With Tomplay, discover a variety of different sheet music with play alongs that you can use to accompany and adapt as you wish, in order to complement your favorite songs with your drumming skills.
What is a drumless backing track?
We've all experienced it: You hear a poignant song, feel the rhythm in your whole body and accompany the band with the tactful snapping of your fingers and bobbing your legs up and down. It is in our blood to want to contribute to the beat of our favorite music. The right backing track offers drummers the perfect chance to become the heart of the rhythm that pulls the audience under its spell.
A backing track (also known as an audio accompaniment track or play along) is an audio recording of certain components of a song that singers or instrumentalists use as a basis for adding further parts. It consists of various individual tracks that contain already completed recordings of individual parts. Thus, musicians use play alongs in which their instrument is absent - so you can be part of your favorite songs when accompanied by the band.
As a drummer, the audio accompaniment track usually already contains the part of the guitar, bass, vocals, keyboard - pretty much everything that rounds off the song. Except for the drums, of course. This is your job!
An enormous help for drummers
A backing track gives you the opportunity to practice your instrument completely casually and still be part of a larger musical whole. Play with a band and enjoy the freedom of the solo artist at the same time: try new things, improvise and take risks! In addition, the backing track prepares you for what will hopefully be waiting for you in the course of your musical career: to play great hits in collaboration with talented musicians.
With the Tomplay drum catalog you can finally do what is in our blood anyway: play the drums of your favorite songs! With our interactive scores, you can choose the level of difficulty that suits you best. TomImprov also helps you to enrich the song with your improvisational skills. Our backing tracks also offer you the musical abundance of the greatest hits - now all that's missing is you! Sit at your drums and complete the sound. See for yourself: Our drums demo video shows you what to expect. If you create an account with Tomplay, you will even receive three free drumless tracks from us!
The best backing tracks for drums
Surely you can think of a range of songs that you would love to play the drums too. The world of music has an endless range of fantastic hits to discover. To make it easier for you to get started, we have made a selection of the best songs that you can enrich with your drum talent. You can find more songs in the Tomplay catalog for drumless tracks.
1. Back in Black
Back in Black was the first AC/DC album in 1980 after former frontman Bon Scott had passed away just five months earlier. The expectations were enormous. Fans around the world hoped that Brian Johnson would live up to his predecessor. The album's success speaks for itself: After Michael Jackson's Thriller, Back in Black is the second best-selling album in music history.
But it wasn't just the appearance of the new singer that was responsible for the success. In classic AC/DC fashion, the entire band delivered legendary sounds! The title song of the album in particular delivers musical high-performance at every level: The guitar riff is one of the most famous sounds of the rock genre of all time, the drums also charge the song with the necessary power!
What greater honor can a rock fan have than playing alongside Angus Young? The right backing track gives you exactly this chance: Let the legendary band accompany you and really rock out on your drums! With the interactive scores from Tomplay, you can play Back in Black at a level of difficulty of your choice. The backing track allows you to separate the individual tracks from each other and only play the parts of the song that you want to use. Use TomImprov and give Back in Black your very own touch.
2. Nothing Else Matters
For many of us, they were the reason to pick up an instrument: Metallica. Her legendary ballad Nothing Else Matters is one of the most important songs in the metal genre; although its popularity has long since exceeded its limits.
In Germany alone, the single shone in the charts for over 85 weeks. In addition to countless other awards, the band received, among other things, a Grammy for the best metal performance. The success of the piece has changed the landscape of the genre forever and catapulted it into new spheres.
As a classic metal ballad, Nothing Else Matters fits in perfectly with immortal songs like Stairway to Heaven by Led Zeppelin - and is in no way inferior to them. The rhythm of the melodic sound should be firmly anchored in the limbs of every drummer.
Become a part of Metallica! Use our drumless tracks and let the legendary lead guitar from Nothing Else Matter accompany you. Tomplay's interactive sheet music gives you the chance to play the song at a level of difficulty that suits you perfectly.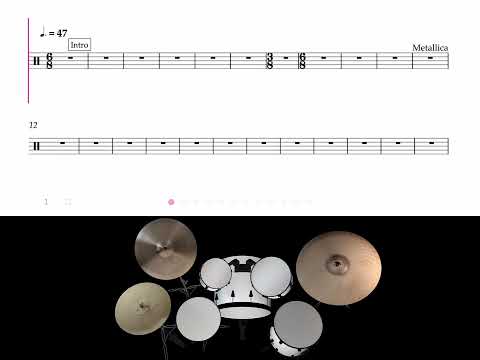 3. Come as You Are
One of the many songs that made Nirvana immortal: Come as You Are was already a complete success when it was released in 1992 - the song's popularity has increased steadily over the past few decades. Their second studio album Nevermind is one of the most important grunge releases, Come as You Are is one of the genre's flagships.
The immense success of the previous single Smells Like Teen Spirit turned the entire music scene upside down. So the expectations for the next release were correspondingly high. Come as You Are, however, was in no way inferior to its predecessor: Here, too, the melody was in perfect harmony with Cobain's profound lyrics that touched an entire generation.
For many guitarists, the guitar riff is one of the first songs to learn. Even for drummers, however, the song is a unique, multi-faceted experience that only Nirvana could have composed.
Immerse yourself in the world of grunge and play Come as You Are with our interactive sheet music at a difficulty level of your choice. Tomplay's drumless tracks enable you to play alongside Kurt Cobain and Dave Grohl. Use TomImprov and discover new sounds within the piece that arise entirely from your imagination.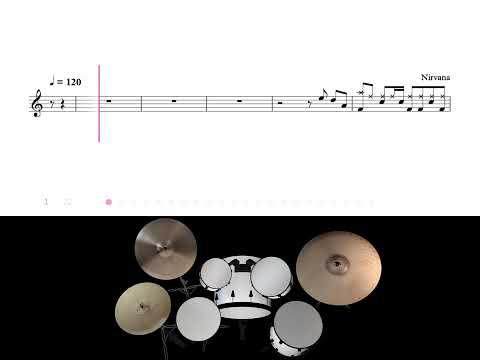 4. Seven Nation Army
One of the most famous riffs of all time: Seven Nation Army is a rock song by the American band The White Stripes, which broke the boundaries of its genre a long time ago and has now achieved cult status. Today you can hear the hit in football stadiums all over the world, at political events, and almost every guitar shop.
The White Stripes are a duo that doesn't need anything more than guitar and drums for most of their energetic songs. Every drummer who dares to play one of their hits has a lot of responsibility to ensure that the sound is right and has enough clout.
Their minimalist sound can be perfectly recognized especially in Seven Nation Army. With nothing more than the guitar and the drums, they have managed to create such a powerful sound that many rock ensembles look pale next to them.
Trust yourself! Become part of the duo and join Jack White using Tomplay's drumless tracks to play Seven Nation Army on drums. With our interactive sheet music, you can choose a level of difficulty of your choice and now really rock out!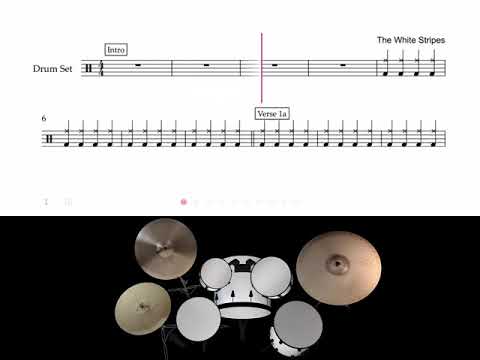 5. Trooper
And last but not least, it's time for a change of pace: Iron Maiden is known for fast-paced compositions that without exception set their entire audience in motion. Trooper is no exception, on the contrary! At a fast pace, you can experience pretty much every nuance within a song that has made Iron Maiden one of the most famous bands in the world.
Here, too, the riff of the guitar is a timeless classic that has been celebrated and re-enacted by fans of the genre since 1983. However, the drums are all the more important here, as they navigate the entire band with the right rhythm through this lively, musical rollercoaster ride.
Since Piece of Mind, the band's fourth studio album, saw the light of day in 1983, Trooper has been one of Iron Maiden's audience favorites. The song is featured on pretty much every of their Greatest Hits albums - which is nothing less than astonishing with a range of hits like the one Iron Maiden has to offer.
Trooper is a song that usually only advanced players should dare to play. With the backing tracks from Tomplay, you can try your luck and play the song with the band, even if you are still inexperienced. So sit down at your drums and step up a gear with Trooper!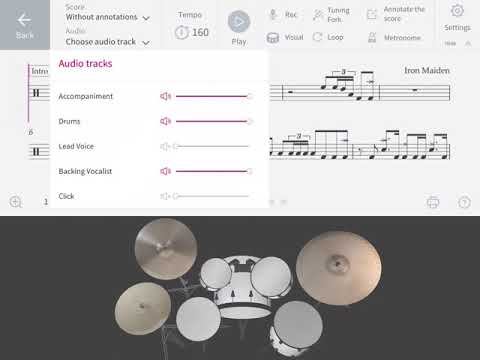 Discover even more drum play alongs with Tomplay!
With Tomplay you have the opportunity to choose only the scores and tabs that best suit your progress as an instrumentalist from a selection of hundreds of pieces. Whether you are a beginner or an advanced player - everyone will find the right level with us, including high-quality backing tracks and various features that will help you while playing.
It is important to us that you exploit the full potential of your instrument and discover all its facets. With the help of our multi-track system, you have the opportunity to change the individual parts of a song as you wish, in order to add the music you wish to your sound! For example, you can adjust the guitar of your drumless tracks to suit your tempo and practice in whatever way is best for you. With Tomplay you set the tone!
Use our features
You can also use TomImprov: This feature helps you improvise over the backing track and make every song your own! Take the opportunity and push the boundaries of great hits by enchanting them with your own improvised sounds; the perfect way to balance creativity and practice.
Browse through the Tomplay drums catalog and discover a variety of songs from almost every era. Whether you are still at the beginning of your musical journey or are already further advanced, there are always new ways to explore - and with Tomplay by your side, you are prepared for every path.