5 Beautiful Pieces by Female Composers to Play on the Piano
For centuries, classical music has been dominated by men. During the classical period, it was considered inappropriate for women to compose therefore female composers were not given the same opportunity as men, and were often discouraged from writing music. Despite this, there were many wonderful and gifted classical female composers so in this article we've put together a list of pieces written by these women for you to enjoy!
1. Notturno in F major, Op. 6, No. 2 by Clara Schumann
▶️ Play Notturno in F major on solo piano
Clara Schumann (1819-1896) was a formidable pianist and female composer of the 19th century but she was greatly overshadowed by her husband, composer and pianist Robert Schumann. At the time, women were supposed to stay at home and even Schumann herself said - "A woman must not desire to compose - there has never yet been one able to do it.". Despite her conflicting feelings, she pushed through it to become one of the most talented pianists of the Romantic era, even introducing the concept of playing from memory.
In terms of composition, Schumann produced many different works, from concertos to Lieds. As a pianist, many of her pieces are for piano, including a collection of pieces titled Soirées Musicales (1836), which she wrote at only 16 years old. The second piece, Notturno in F major, is a slow work in ABA form. The left hand provides a rocking accompaniment while the right hand plays a beautiful and lyrical melody. It's astonishing to think that such a young person was able to write such a moving piece. Nowadays, Clara Schumann is considered one of the most famous female composers of all time.
Perform Notturno in F major, Op. 6, No. 2 on solo piano with Tomplay. It is set at an intermediate level. If you'd like to explore more works by this talented female composer, we also offer a collection of The Most Beautiful Pieces by Clara Schumann to Play on the Piano.
2. Romance, Opus 23 by Amy Beach
▶️ Play Romance on the piano in a duet with the violin
Amy Beach (1867-1944) was a 19th century American female composer and pianist who broke barriers in classical music in many ways - for example, she was the first American female composer to write and publish a symphony. Along with her compositions, she was also a gifted pianist. Her impact on the music world was groundbreaking and has led to her being considered one of the most respected and famous American female composers of all time.
Beach was a close friend of the violinist Maud Powell and so in 1893, she dedicated her composition Romance, Opus 23 to her. It is written for violin and piano and the two friends performed this piece together in Chicago the same year. This original piece requires both players to be technically skilled and able to convey emotion through musical expression. For the pianist, phrasing and pedalling are two additional areas to focus on.
Perform Romance, Opus 23 on the piano in a duet with the violin.
3. La Lisonjera (The Flatterer), Opus 50 by Cécile Chaminade
▶️ Play La Lisonjera (The Flatterer) on solo piano
Our third female classical composer is Cécile Chaminade (1857-1944). She was born into a wealthy family and displayed a gift for music from a very young age, particularly on the piano. She was encouraged by those around her, including other composers and family friends, such as Camille Saint-Saëns and Georges Bizet. She became the first female composer to be awarded the Legion of Honour, the highest order of merit in France. Her compositions include piano works, salon music and orchestral suites, although the first two were the most popular, especially in America.
Towards the end of the 19th century, Chaminade wrote the piece La Lisonjera (The Flatterer), Opus 50 for piano. It is a beautiful serenade with the melody played in the lower right hand. There are many interesting elements to get to grips with, such as tempo changes, mixed rhythms and staccato/legato playing.
Perform La Lisonjera (The Flatterer), Opus 50 on solo piano with Tomplay. It is set at an intermediate to advanced level.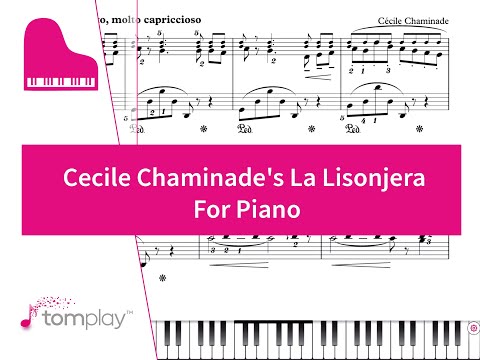 4. Nocturne in G minor by Fanny Mendelssohn
▶️ Play Nocturne in G minor on solo piano
Fanny Mendelssohn (1805-1847) was another female composer who stood in the shadows of a male relation - her brother, composer Felix Mendelssohn. Fanny Mendelssohn was a talented pianist and composer in her own right, but was forced to publish her works under her brother's name. At that time, the role of women was very much in the home and not at work, plus her father was against her having a career as a composer.
Despite the obstacles she faced, Mendelssohn wrote over 460 pieces under her brother's name. Many of these have now been re-attributed to her, making her one of the most famous female composers of all time. She wrote many Songs without Words, which later became a genre in itself - it's a short, lyrical piano piece in the form of an art song. On the 8th March 2017 in honour of International Women's Day, a work previously thought to be written by her brother was performed for the first time under its real composer - Fanny Mendelssohn. This piece is titled Easter Sonata.
Nocturne in G minor is a one movement piece written by Mendelssohn in 1838. It is in the style of a barcarolle, or Venetian boat song, as evidenced by the 6/8 time signature and the lilting feel provided by the left-hand accompaniment.
Nocturne in G minor is available for solo piano and is set at an intermediate to advanced level.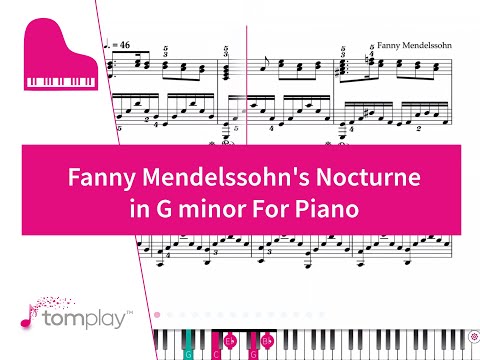 5. 25 Etudes Facile, Opus 50 - No. 2 Etude in A minor by Louise Farrenc
▶️ Play Etude in A minor on solo piano
The last female composer we would like to highlight in this article is Louise Farrenc (1804-1875), a French woman who grew up in Paris surrounded by women working in all different types of art fields. She began playing piano from a young age before studying composition at the Paris Conservatory when she was only 15 years old. At the end of her studies, she made her name as a concert pianist and a composer, eventually being appointed as a piano teacher in the Conservatory. This position was one of the most prestigious in Europe and she was in fact the only female teacher appointed in the entire 19th century!
Farrenc wrote around 50 pieces from orchestral and choral works to piano pieces. As a piano teacher however, her etudes are very well written and remain important pieces in piano repertoire. 25 Etudes Faciles, Opus 50 is a set of easy studies so they're ideal for amateur pianists. As with all studies, each one focuses on a specific technical skill and in No. 2 Etude in A minor, the skill is about achieving accuracy in a 6/8 time signature. Despite the technical focus, the piece has a beautiful melody with a lilting accompaniment in the left hand.
Perform Louise Farrenc's 25 Etudes Facile, Opus 50 - No. 2 Etude in A minor on solo piano. It is written for pianists of an easy to intermediate level.