8 Great Accordion Sheet Music Titles for Accordionists of All Levels
The accordion is a fantastic, versatile instrument and Tomplay is delighted to offer accordionists the opportunity to play music from different genres, such as classical music, film music, and pop/rock music. In this article, discover pieces for solo accordion, and with accompaniments (backing tracks and orchestral accompaniments). Some of the pieces are also available in several levels of difficulty so accordionists of all levels can play our accordion sheet music. Our scores are available for either free bass accordion, standard bass accordion, or both! We also provide button fingering and piano fingering.
1. La Valse d'Amélie by Yann Tiersen
It's thanks to French singer, songwriter and musician Yann Tiersen that Amélie Poulain, a young waitress in Montmartre in the film Amélie (2001), was brought to life through his incredible soundtrack. Tiersen won a myriad of awards for his work and this helped him to develop a stellar reputation.
La Valse d'Amélie is the third piece on the soundtrack and can be described as a 'valse-musette' - this is a form of a waltz that was intended to be quicker, easier and possible to perform in a smaller location than a traditional waltz. This wonderful, joyful piece of music is filled with Parisian charm and conjures up images of the young Amélie walking around Paris.
Tiersen plays many instruments, including the accordion, therefore this is an excellent piece for Tomplay accordionists. Furthermore, the original instrumentation for this work is the accordion. It includes all the traditional elements of a waltz, including a triple metre and an emphasis on the first beat of each bar.
Discover La Valse d'Amélie by Yann Tiersen with Tomplay. It is set at an easy/intermediate level so it is accessible to many musicians. The piece is available for a standard bass accordion and you can opt for either button or piano fingering.
2. Bella Ciao
Bella Ciao is a famous Italian partisan song with a confusing history. Some historians say it dates back to the 19th century in northern Italy, while others say it first appeared during the Second World War in anti-fascist communities, as a symbol of resistance and freedom. In any case, it has become the anthem of resistance for militants and protesters all over the world.
It has been covered by many artists, both Italian and international singers, and more recently it was used in the wonderful series La Casa de Papel, or Money Heist in English.
Tomplay provides Bella Ciao for both solo accordion and with the orchestral accompaniment. Play this piece on a standard bass accordion and opt for the button or piano fingering.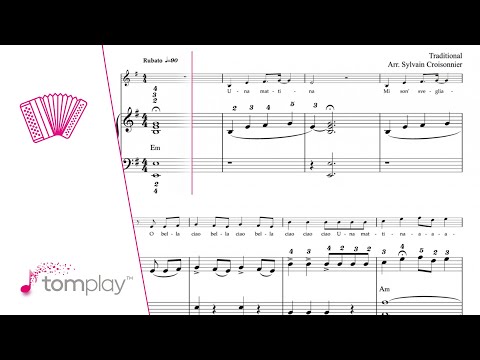 3. Hungarian Dance No. 5 in F sharp minor by Johannes Brahms
Brahms composed Hungarian Dance No. 5 in 1869 and it is the most famous of his twenty-one Hungarian Dances for piano four-hands. He later rearranged these dances for a variety of instruments and ensembles, including for orchestra and solo piano.
These Hungarian Dances would perhaps never have seen the light of day without the Hungarian violinist Ede Reményi. Brahms met him when he was 15 and accompanied him on the piano during his concert tours, and the violinist used to play gypsy dances. Brahms loved this style of music and was therefore inspired to write his own work, the Hungarian Dances.
Hungarian Dance No. 5 starts off with a wonderful and charming minor theme before transforming into a sweeping work with gipsy rhythms and frenetic energy. Play this exciting Brahm's work on the standard bass accordion with either the button or piano fingering. It is set at an intermediate level and is for solo accordion.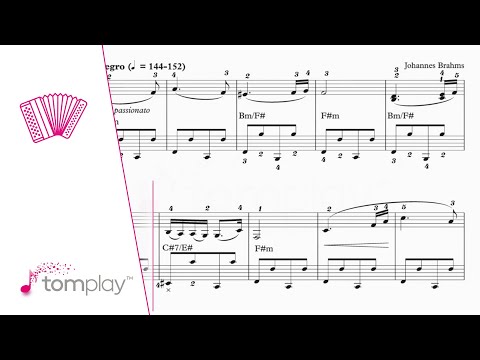 4. Piano Man by Billy Joel
After an early career in various bands, Billy Joel rose to success as a solo artist when he released his first single, Piano Man. The song was such a hit that even to this day, he is still nicknamed the piano man. The beauty of this piece is that Joel was inspired to write it by his days as a pianist in a bar, where he would observe the locals. It's such a simple and banal backstory, but he managed to transform it into one of the most famous and wonderful songs.
For Tomplay accordionists, play Piano Man on solo accordion or accompanied by the backing track. You can also change the tempo to suit your level, which is ideal for practising the leaps between the walking bassline of the first beat and the other notes in the bar.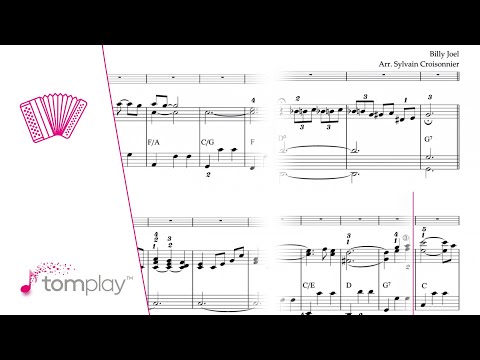 5. Oblivion by Astor Piazzolla
Astor Piazzolla was a 20th-century Argentinian composer who revolutionised the traditional tango. From a young age, he played and composed music and continued to do so up until his death, at the age of 71. His significant influence on the style included the development of the nuevo tango ('new tango'), a departure from the traditional tango with the addition of jazz and classical influences.
Piazzola played the bandoneon, a popular instrument in South America that is similar to the accordion, but which greatly differs in sound. Oblivion was written in 1982 and is part of the soundtrack for the Mario Bellocchio film, Enricho IV. The phrasing in this melancholic piece is very interesting and unusual: the piece has a 4/4 time signature, however, the accents are on different beats so it creates a much more syncopated rhythm.
Whether you're an intermediate or advanced player, Tomplay has you covered. Our arrangements of Oblivion are available in several levels of difficulty for solo accordion and with the orchestral accompaniment. We even offer this piece as a duet with another accordion!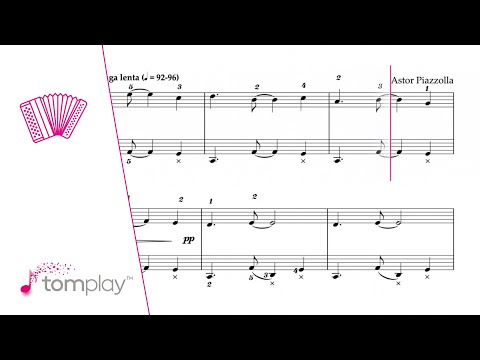 6. Wellerman by Nathan Evans
Nathan Evans is a Scottish singer who first found fame on TikTok in 2020 by singing traditional sea shanties. Buoyed up by this success, in 2021 he released a cover of "Wellerman", a 19th-century sea shanty from New Zealand. Interestingly, he released two versions: his original and a dance remix with 220 Kid and Billen Ted.
Although described by Evans and many others as a sea shanty, it is more accurate to name it a sea ballad. In any case, the defining characteristic of sea songs is that they were used to accompany maritime men as they worked.
The accordion is well suited to this jolly song, so Tomplay has provided Wellerman in several levels of difficulty, from very easy to advanced. You can play it on a solo accordion or accompanied by the backing track, and you can opt for a button or piano fingering.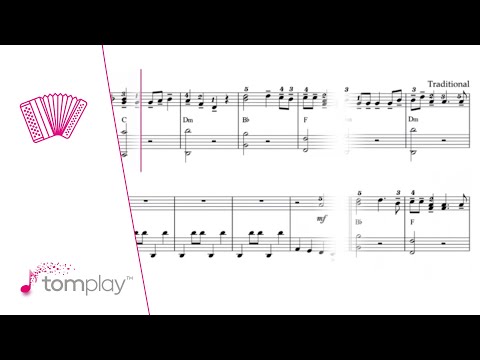 7. Pirates of the Caribbean
When we think of film music, Hans Zimmer is one of the first names which comes to mind. This German composer has written over a hundred and fifty scores over his incredible thirty-year career - he is a master in this field.
Zimmer and his team composed the music for the first film of the Pirates of the Caribbean saga alongside Klaus Badelt. When Zimmer was originally asked to join the musical team, he wasn't convinced by the idea of a 'pirate movie', but was quickly seduced when he saw scenes from the film. Unfortunately, the composers had a very short timeframe to write the music, so they requested help from seven other composers.
He's a Pirate is played during the film credits, and is one of the most iconic pieces on the soundtrack. The glorious sound of the accordion is ideal for this swashbuckling pirate song - play it on solo accordion, or accompanied by the orchestra. Choose your level, choose your fingering, and ahoy, let's go!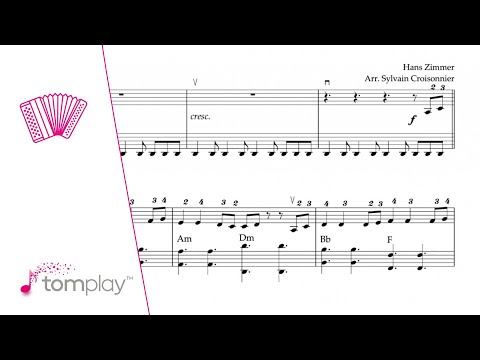 8. The Godfather
The Godfather (1972) is a cinematic masterpiece directed by Francis Ford Coppola. For those of you who may not know the details, the story is about the adventures of a big Italian mafia family and the main characters are played by Marlon Brando and Al Pacino. The film won many awards, including three Oscars.
The love theme from The Godfather was written by Nino Rota, a wonderful film score composer. The melody of the piece is as iconic as the film itself and is a perfect example of how important film music is. The melody instantly conjures up images of the film, and that is no easy feat!
Discover Tomplay's arrangements of The Godfather: choose your level (from easy to advanced) and play this piece on solo accordion or accompanied by the orchestra. Opt for button or piano fingering with the standard bass accordion score.