How to play Happy Birthday on the Piano in 5 different styles (with sheet music and backing track)
Tomplay has gathered several versions of the famous song so you can play Happy Birthday on your piano to your dear ones, in a style that matches their personality.
Did you know that more babies are born between July and September? So, if you feel like summer is a never-ending series of birthday parties, that's probably because it is. Overdose of sweet cakes aside, it is a great opportunity as a musician to offer the people you love a very special gift: a room full of friends singing along a very happy birthday to the sound of your piano.
The origins of the song
The origins of the song "Happy Birthday to you" remain unclear. The story goes that, in 1893, Patty, a kindergarten teacher from Kentucky, asked her sister Mildred to compose something that the kids could easily remember. The sisters had created the melody of the song under the name "Good Morning to all". What happened between then and the first publication of the song with the melody and the text in 1912 is debatable, particularly because no credit was mentioned at that time. The rest is history- and a lot of copyright lawsuits.
One of the most famous versions of the song has been interpreted by Marylin Monroe and her sexy "Happy Birthday, mister president" for the 45th birthday of John Kennedy. If you are looking for a more wife-friendly version, you now have special platforms that allow you to receive birthday wishes sung or declared by celebrities for a fee. How cool is that?
The song is at the center of every birthday celebration, with its lyrics being translated into dozens of languages! But whether you sing "Feliz aniversário", "Fijne verjaardag" or "Zorionak zuri", the ritual remains the same: somebody turns off the lights, you are being presented a birthday cake with lighted candles and everybody sings until you blow the candles while making a happy wish. Ah, the memories...
A version for everyone
Victor Borge has been the first in 1951 to refresh the "Happy Birthday to you" song with his incredible pianist talents, going from his own variation to a combination of pieces from the biggest composers of all time, like Beethoven or Mozart. But that's all classical music. What if you could add a custom touch by playing a special version of it, closer to the musical tastes of the birthday girl/boy?
Tomplay got you covered! Our piano sheet music catalog contains several versions of the song arranged by none less than Mike Garson, David Bowie's longtime pianist. With piano sheet music arranged for every level from beginner to advanced, you will be sure to find sheet music right for you with Tomplay! The best part? Every music score comes with a high-quality backing track to play along with an orchestra.
You will find below our selection of classical, jazz, or even boogie-woogie sheet music versions to impress your friends, no matter your level of practice. If you are usually doing some playback and pretending to sing in the back of the crowd, it is time for you to start learning how to play happy birthday on the piano with Tomplay interactive sheet music and surprise your friends and their guests!
Classical music is a Western European genre that covers pretty much any music written and played between the Middle Age to the beginning of the 20th century in Europe. But here, we will talk about the classical period of classical music from the end of the 18th century and the beginning of the 19th.
After the grandiloquence of the Baroque period, the fashion at that time was to go for something lighter and easier to play. Harpsichords are left aside for pianos, string sections are reduced to violin, viola, cello, and double bass, leaving room for some wind instruments like the clarinet, flute, and oboe.
The period saw the ascension of massively influencing composers like Mozart, Haydn, Beethoven, and Schubert. Compositions regularly carry an emphasis on dynamics and phrasing, bringing life and emotions to the music. Just what you need for a birthday celebration! All our piano sheet music comes with backing tracks played by an orchestra and is arranged for different levels of practice. Feeling shy because of your beginner level? No worries, we have a Happy Birthday piano beginner sheet music version just for you! Expect happy tears and applause with Tomplay Happy Birthday piano sheet music!
Your friend is one of those people who always likes to go deep on every subject, even though he is a person of little words. And whenever he needs to express himself, he prefers to put his heart and soul into his instrument or sing and get some friends round for a session. Ever considered a bit of blues for his birthday?
Opinions diverge, but the term "blues" could be coming from the expression "blue devils" which meant melancholy and sadness. It got its origin from "spirituals", songs from slaves of African culture where one voice would lead and others would answer in a "call and response" way of singing. Blues emerged from the feeling of hopelessness and injustice that ran through the African American communities in the Deep South states at the end of the 19th century. Slavery was ending, leaving those communities with a (relative) sense of freedom and many new questions on how to continue from now on.
Like jazz, blues expanded in a lot of different styles and variations, spreading all over the southern states and then past the borders of the US themselves. It is characterized by a "cycle" repeated all over the song, the most popular being 3 repetitions of 4 bars that give a 12 bar blues. This structure allows some freedom in the singing and playing, as the phrase can be interpreted in infinite possible ways. Want to give it a try? Learn how to play Happy Birthday on the piano, blues version, and get your friend to improvise on his own birthday wishes in style!
Trying to define jazz is kind of mission impossible: everyone has his own conception of it, you can't describe every style, sub-style, and sensibility of it without forgetting something and everyone agrees to disagree about it. Created at the end of the 19th century from blues and ragtime, jazz became the American genre by excellence.
The main reason for its constant evolution over time was that right from the beginning, jazz was the result of a mix of cultures. Originating from African American communities of New Orleans, the genre was influenced not only by the variety of West African tribes that composed it, but also Caribbean, Creole, French instruments and cultures- as well as any other you could find in New Orleans at that time. Born from popular backgrounds with the initial wish to make people dance, jazz later became much more "static" with seated concerts and clubs. It is now a multitude of different styles, born from all the cultures it touched on the path of its success, way beyond the limits of the US.
All variations have something in common though: the will to have music based less on fixed sheet music and more on improvisation, with some solo parts changing at every interpretation of the piece. So if you want to make your friend's birthday party sound like an elegant club, play the jazz version of Happy Birthday piano sheet music with Tomplay, accompanied by its orchestra backing track, and amaze the rest of the guests with your style!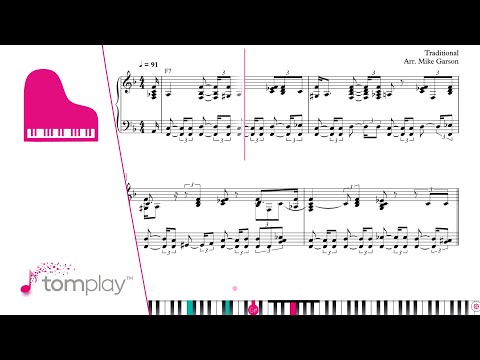 The boogie-woogie genre found its roots in the African American communities of Texas at the end of the 1870s, brought there to work on the US railway construction. It is even said that the music has been partially inspired by the sound of a steam locomotive. While the exact location of its origin is still open for debate, it is almost certain that it came from the African continent with similarities between the name "boogie-woogie" and several words from languages in West and South Africa.
Made popular in the 1920s, this style of blues music has the piano at its heart, with an emphasis on the beat given by the left hand. Originally played by inexperienced musicians, the style focuses on the rhythm rather than the melody and invites them to dance. It gained even more attention with musicians like Meade Lux Lewis, Pete Johnson, and Albert Ammons, before starting to influence other genres like country, jazz, and of course rock and roll.
So, if you have this friend who keeps on teasing you because he finds playing the piano boring or if the true passion of your friend is dance, this version of "Happy birthday" could be the one! A bit too fast for you? No problem, with Tomplay, you can lower the tempo of your sheet music and practice until you get it! Play Happy Birthday piano music sheet, boogie-woogie version with Tomplay, and surprise your friends with your natural sense of rhythm!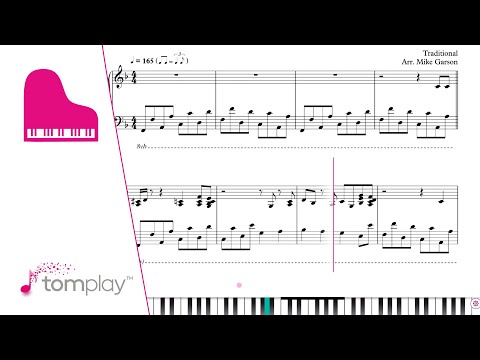 Maybe you have this friend who considers every new day on this earth as a reason enough to celebrate. His birthday is just another one! Because for him, music is life, you might consider opting for a bit of bossa nova.

Born in Rio de Janeiro in the late 1950s from the middle-class young generation, the genre literally means "new trend". Derived from samba, it was created by the fusion of the innovations of João Gilberto on the guitar beat-as well as his distinctive way of singing, the lyrics of Vinicius de Moraes, and the composition of Antônio Carlos Jobim. Their work was later brought to the US and, in 1964, Gilberto, his wife, and Jobim worked alongside the American Stan Getz to record the legendary album "Getz/Gilberto". The album sold more than 2 million copies in the year of 1964 alone.
The bossa nova tells stories of love, romances, beach life, and the sweetness of life. Perfect for a birthday celebration! With its relatively accessible piano lines, the bossa nova will suit easier levels of piano practice. Discover our bossa nova version of Happy Birthday piano sheet music arranged for easy/intermediate level and be prepared for a colorful birthday party with Tomplay!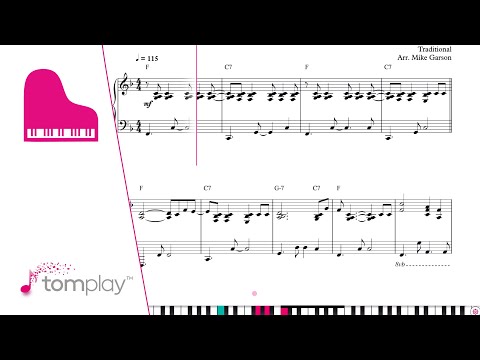 We hope you enjoyed our selection! If you are curious about other Happy Birthday piano sheet music versions, please check our complete collection of Happy Birthday sheet music in Tomplay!