The 10 most beautiful Christmas pieces to play on the Cello (with sheet music)
In this article, we're sharing a selection of the most beautiful Christmas cello sheet music to play with Tomplay, arranged with different levels of difficulty. Display the magic of Christmas to everybody around you with Tomplay!
Looking for more? We have an entire selection of Christmas cello music that you can find in our cello catalogue:
1. Ave Maria
Ave Maria was composed by Franz Schubert in 1825. At that time, the composer was working on a series of lieds, all based on Walter Scott's poem The Lady of the Lake. They tell the story of Ellen Douglas who went into hiding with her father after the king decided on their exile. She started to pray to the Virgin Mary, asking for help. The selection of songs was published in 1826 under the name Opus 52.
The piece, originally written in German as a piano song for a female singer, became one of the most famous of Schubert's works. It has since been sung by renowned opera singers like Luciano Pavarotti, Maria Callas and Andrea Bocelli. It joined popular culture when it was added to the soundtrack of Disney's movie Fantasia in 1940, where it was played right after Night on a Bald Mountain in one of the last sequences of the movie.
Discover our interactive Christmas cello sheet music Ave Maria, arranged for an intermediate level and bring some style to your Christmas celebration!
2. Hark! The Herald Angels Sing
This song is an English Christmas carol that was first published in 1739 by Charles Wesley who wrote the piece as a "Hymn for Christmas day", based on Luke 2:14.
Wesley was an English methodist leader who had written the lyrics of more than 6000 hymns during his lifetime! Hence many of his hymns were translated into other languages and formed the foundation for methodist hymnals.
The music that now accompanies the text of the carol is a long story! In 1840, more than a hundred years after the text's creation, Felix Mendelssohn wrote a cantata that was modified by Wiliam Hayman Cummings in 1855 to fit the lyrics of Wesley. Long story short: this carol is a teamwork across a couple of centuries! Nowadays, the piece is a Christmas classic, especially in English speaking countries.
Discover our interactive Christmas cello sheet music Hark! The Herald Angels Sing arranged by Tomplay for an easy level and play along with a quartet string for the holidays!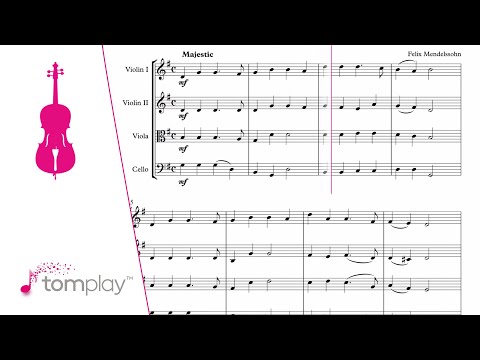 3. Jesu, Joy of Man's Desiring
Jesu, Joy of Man's Desiring was composed by Johann Sebastian Bach in 1723. But the original version of the piece is way older: Martin Janus, a German Protestant minister wrote Jesu, meiner Seelen Wonne in 1661. Bach then used 2 of his stanzas to create a four-part setting with orchestral accompaniment to close his cantata Herz und Mund und Tat und Leben, BWV 147. It's complicated...
The piece was initially created for orchestra and choir, but its popularity led to countless arrangements and transcriptions, including the noticeable versions of Dame Myra Hess for piano solo in 1926 and for two pianos in 1934. Today, the piece is used for Christmas and Easter masses, but also during weddings celebrations. It has also been covered by several artists including Josh Groban.
Play the Christmas cello music of Jesu, Joy of Man's Desiring arranged for an easy/intermediate level by Tomplay, with a piano accompaniment and bring solemnity to your Christmas celebration!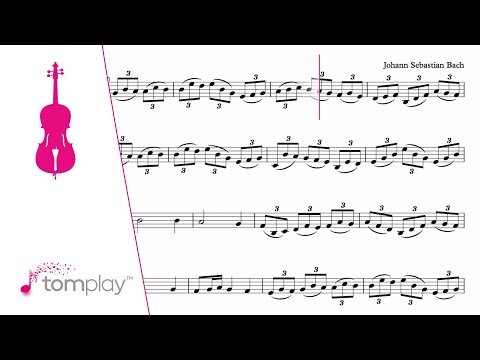 4. Jingle Bells
Composed by minister James Pierpont, the song was published for the first time in Boston in 1857 under the title "One Horse Open Sleigh". Origins of the song remain unclear, with some saying it was written for Sunday school choir, some saying it was a drinking song...Either way, the joyful and festive tone of the piece made it quickly associated with Christmas and the holiday seasons-even though the song mentions none of that.
Today, it is impossible to escape the tune during the holiday season! It is one of the most well-known Christmas songs in the world, with various translations, including in French and German. Very present in popular culture, it was also parodied several times- as often for catchy and simple melodies, with modified lyrics and comedy interpretations. Bart Simpson even made his own version of it!
Discover Tomplay Christmas cello music of Jingle Bells with piano accompaniment, arranged for an easy level. Struggling to follow the pace? We thought about that. With Tomplay, you can reduce the tempo of your music sheet and practice until it becomes easy for you!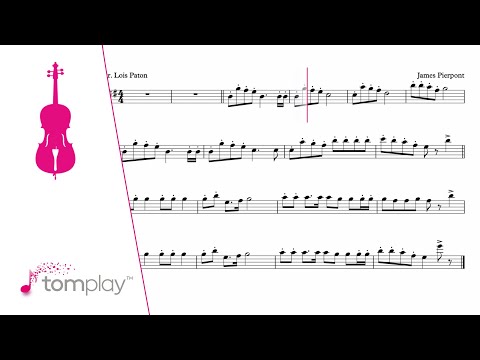 5. Let It Snow
Lyricist Sammy Cahn and composer Jule Styne were having a hard time dealing with the heatwave that struck California in July 1945. Hence Let it snow was born from a wish of cooler weather! Because it mentioned winter activities, radio stations started to play it during the season even though the song doesn't talk about Christmas or the Holidays at all.
The original version was recorded by Vaughn Monroe in 1945. However, the most popular versions of the song are probably the ones done by Frank Sinatra in 1950 and the one by Dean Martin from 1959. More upbeat than the original, they both have been used in several movies and commercials. The song has been regularly covered by different artists including Jessica Simpson and Seal.
Bring the freshness of the winter season with Let It Snow, your cello and Tomplay! Play this Christmas cello song now, in a version arranged for an intermediate to advanced level, with an orchestra accompaniment!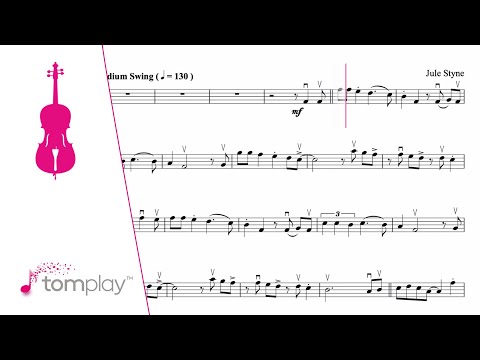 6. The First Noël
The actual version of this piece was published in 1823 in the UK in a collection of Christmas carols. It is believed to be of Cornish origins and way much older than the 19th century. Indeed, the word "Nowell", from the French word "Noël" was used around the 15th-17th century to describe the Christmas season.
Since the song is so old and little documented, there are some discrepancies in the lyrics but all describe the birth of Jesus, the annunciation to the shepherds and the arrival of the three wise men. Today, the piece became popular beyond its Catholic origin and is regularly covered by different artists, recently by Pentatonix and Mariah Carey.
Discover our interactive Christmas cello music The First Noël arranged by Tomplay for an easy level and play along with a quartet string to impress your family and friends for the holidays!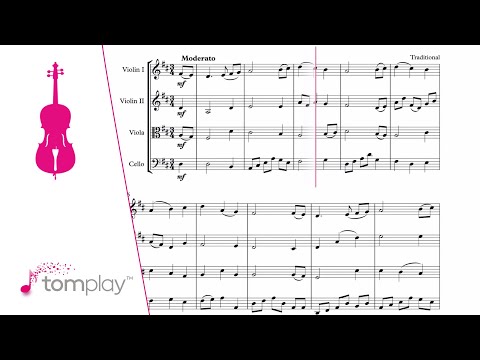 7. O Come, O Come Emmanuel
O Come, O Come Emmanuel is a traditional Christmas piece that is played for Advent and Christmas masses in Catholic churches. Origins of the text are uncertain: it could have been written in Latin as early as the 8th century, based on very ancient texts. However, it was not properly documented before 1710.
For this piece, both the text and the tune have been fluctuating over time and space, so there are countless versions of it. The original text Psalteriolum Cantionum Catholicarum was extended and modified through translations and interpretations over the centuries. The most popular tune to accompany it is known as the "Veni Emmanuel '' tune and was first associated with the lyrics in 1851. It is now part of popular culture since artists like U2 and Bad Religion covered it.

Return to the main purpose of the Christmas celebration with the Christmas cello music of O Come, O Come Emmanuel arranged by Tomplay in an intermediate/difficult level, and play along with our piano audio accompaniment!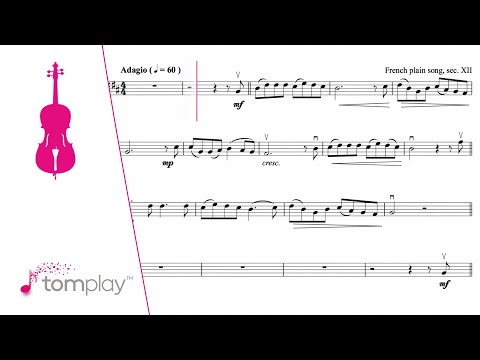 8. O Holy Night
Based on a poem of Placide Cappeau written in 1843 and music composed by Adolphe Adam, the piece was originally published under the name Minuit, chrétiens. It premiered in 1847, sung by the opera singer Emily Laurey. The Christmas carol reflects on the birth of Jesus and of mankind's redemption.
The song was later titled Cantique de Noël before being translated into English by John Sullivan Dwight. It then became popular under the name O Holy Night. The wide range of notes included in the song make it a difficult piece to sing properly, hence it is a true challenge for amateur singers. Therefore, it entered popular culture due to the talent of voice artists like Jennifer Hudson, Ella Fitzgerald and Kelly Clarkson.
Play the Christmas cello song O Holy Night with Tomplay, arranged for an easy level, with piano accompaniment and open the Christmas carolling season!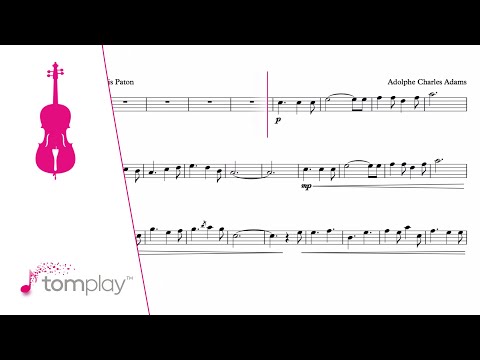 9. Silent Night
In December 1818, a community was supposed to be re-playing the birth of Christ in their local church of Saint Nicolas in Austria. Until they found out at the last minute that their organ couldn't be used for the celebration anymore. Joseph Mohr, the father in charge of the congregation, thought he could use Stille Nacht, a poem he had written several years earlier, to make the Christmas celebration in his church more festive. He asked Franz Xaver Gruber, an organist from the neighbouring village, to write a melody to accompany his piece on the guitar. A few hours later, the carol was played for the first time during the Christmas Eve mass.
The piece became well known in Austria, then outside of the country, especially after it was translated in English in 1859. The song became so popular ever since, that it has been translated into about 140 languages now. It even got declared "intangible cultural heritage" by UNESCO in 2011!
Play the Christmas cello song of Silent Night arranged for an easy/intermediate level by Tomplay, and create a bit of Christmas magic while playing along with a string quartet!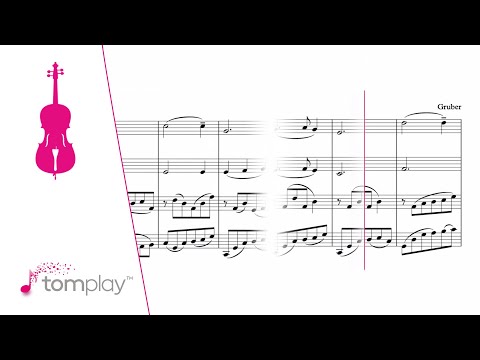 10. We Wish You a Merry Christmas
We Wish You a Merry Christmas comes from a long tradition of carolling. Even though its origins are not certain, we know it was composed in the 16th century in the South West of England. It was later popularised by the composer Arthur Warrell who arranged the melody and the lyrics for the University of Bristol choir he was part of. They sang his four singing parts version for the first time, during a concert in December 1935.
The piece extended its popularity to the entire UK, then to the US. Cheerful and lively, the song is now a Christmas classic that you can find in any music compilation or movie related to Christmas. Be prepared to hear it a lot over the holidays!
Get in the Christmas spirit with We Wish You a Merry Christmas arranged by Tomplay for beginners in an easy level, with piano accompaniment!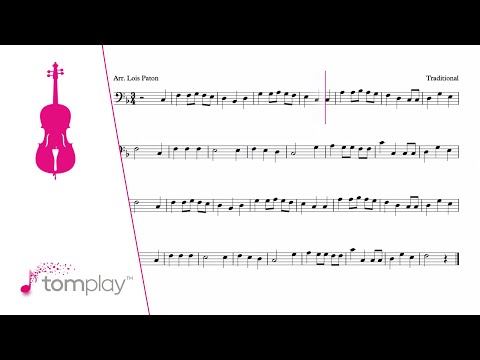 We hope you liked our selection! If you are looking for more Christmas cello sheet music, please check our entire catalogue below: