10 pretty duets for children learning the trumpet
Are you learning the trumpet? This article is for you! We have prepared a selection of 10 pretty little duets at beginner level for two trumpets, which you can play now in the Tomplay app. You can practise them during lessons with your teacher and then practise on your own at home with the audio recording of the second trumpet part, just as if you were with your teacher! You will also have the possibility of slowing down the speed of the music, for example, or to record it and listen back to your own playing. If you want to explore the sheet music of these ten short duets straight away, click here. All the sheet music has been carefully arranged by Norbert Pfammatter, a trumpet teacher at the Lausanne Conservatoire and Education Director at the Crissier Music School.
If you look to learn the Trumpet notes, try our Trumpet fingering chart tool.
1. La valse des articulations
The waltz is a style of music in 3:4 time which makes us want to dance. We're going to learn the various articulations of this very well-known dance, which is greatly enjoyed in the city of Vienna in Austria, in order to give it even more colour. You'll see: it will make the piece even brighter!
2. Frère Jacques (Brother John)
Do you know what a canon is? It's a piece in which several voices play or sing a copy of the melody, but with some delay. It's the strictest form of polyphonic imitation. "Frère Jacques" is without doubt the most well-known canon.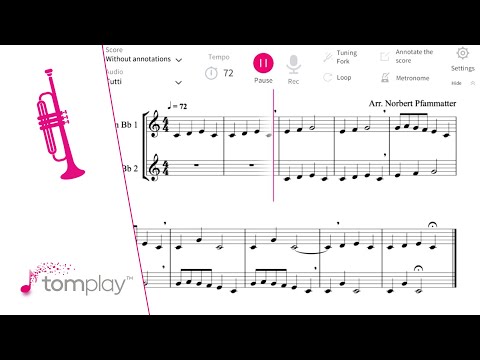 3. Miroir décalé
Imagine a magic mirror. When you make a movement in front of this mirror, your image in the mirror won't change straight away, but a little later on! The principle in this duet is that the two trumpet voices are off-set. So, you're going to learn to play one melody which looks at itself in the magic mirror and sees its reflection, but not exactly at the same time!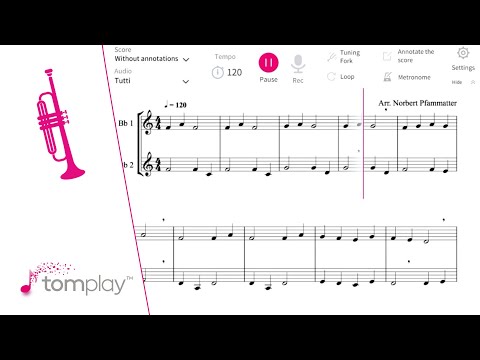 4. Triste et heureux
In music, there is a special difference between major and minor keys: major sounds happy and minor sounds sad. You can find out for yourself which place in the piece sounds major or minor.
5. Pas par Pas
Imagine a staircase. We can go up and down these stairs several times. The steps on the stairs are quite simply the musical notes which sound at each forward or backward step.
6. Vive le Vent
Here's a classical Christmas song which you can already play after only several months of learning your instrument. You'll see: Father Christmas will be really happy!
7. Jeu de quartes
A fourth in music is an interval of four degrees between notes, for example do - fa. In this duet, we're going to explore the colours of this interval.
8. Bonds et rebonds
Imagine two kangaroos having a race. Thanks to the melody, liaisons and articulations, this duet gives a perfect picture of this race between these two Australian animals.
9. Ballade en tierce
A third in music is an interval of three degrees between notes, for example do - mi. In this duet, we're going to explore the colours of this interval.
10. Switching Voices
Everybody takes a turn! As the title says, we're going to swap over the voices half-way!
Play this piece and many others with Tomplay!
There you are! Would you like to play all these pieces? You'll find them in the Tomplay catalogue by clicking here!
If you'd like to explore some other classical pieces and also some Pop and Jazz pieces or film scores adapted for beginner trumpeters, you can explore all our catalogue for the trumpet here.
All our sheet music for the trumpet contains high-quality play-along recordings to accompany you. You'll also find many features which will help you learn to play the trumpet and to make progress!