The 10 best rock songs to play on bass
Do you play the bass? In this article we present to you our selection of the 10 best rock tabs that you can play on bass. From Smoke on the Water to Nothing Else Matters you'll find all the greatest rock standards… Thanks to Tomplay's interactive tabs you can now play the bass accompanied by a play along recording by the rest of the band! You can also find these songs in the following collections:
The bass guitar: one of rock's most powerful instruments
A lot of times the bass guitar unfortunately does not get the credit it truly deserves. It's fairly rare that it takes the spotlight in a song - that place is usually taken up by the guitar or the vocals. And yet observant listeners know, the right bassline is crucial for a good sound - especially when it's time to rock!
The bass adds to the impact of a rock song just as much as the drums; in some cases it's even the heart and soul of a melody that you just can't get out of your head. Just think of the legendary sound of Queen's Another One Bites The Dust - one of the many basslines that is solely responsible for the immortality of a certain song.
The world famous riff from Smoke on the Water by Deep Purple - that should be at the fingertips of every guitarist out there - also only really comes alive once the bass kicks in. Just as in most rock songs, it's in that particular moment that the melody becomes a timeless classic that you simply can't let go of.
Sometimes you just can't help but to keep humming a certain bassline on and on. So why not just grab your bass instead and play it yourself? In this article we've made a selection of the 10 best bass tabs you and your instrument can rock out to!
1. Smells like teen spirit
There are only a few songs out there to capture the spirit of a decade as perfect as Nirvana's Smells Like Teen Spirit. It was the first single of Nevermind, one of the band's most successful and also one of the most important albums of all time. It was at this moment, that grunge established itself as a mainstream genre - which it still is to this day.
It all started with a misunderstanding: "Kurt smells like Teen Spirit", Kathleen Hanna - Frontwoman of Bikini Kill - one day wrote on Kurt Cobain's Wall. He thought that there must have been a deeper meaning behind those words, which inspired him to write the instant classic. Only months after the song's release did he find out that she was just referring to the deodorant Teen Spirit.
The lyrics that became a whole generation's anthem were led on by some of rock's most well known power chords. And yet during the verse it's the bass that's creating the unremarkable sound that to this day is distinctive for Nirvana. With Smells Like Teen Spirit you're not just playing grunge on the bass - you're playing a piece of rock history!
Explore our interactive tabs for Smells Like Teen Spirit by Nirvana and play the song on bass with optional vocals and play along accompaniment.
2. Another One Bites The Dust
Without a doubt, Freddy Mercury is the shining star of Queen. In Another One Bites The Dust it's the bass that's clearly stealing the spotlight though - which comes as no surprise considering that John Deacon, the band's bassist, wrote the entire song.
Its success showcases how important a good bassline is for every rock song: With over 7 million units sold it's Queen's most successful single. Ever since then artists worldwide, including Wyclef Jean, have either covered it or just sampled its iconic bassline as in The Adventures of Grandmaster Flash on the Wheels of Steel.
With such a meaningful history every bassist should rock out to Another One Bites The Dust at least once in their life. It's not just about its smooth sound - the riff is just a whole lot of fun to play on top of that!
With our interactive bass tabs you can now play Another One Bites The Dust on bass in several levels of difficulty and with optional vocals.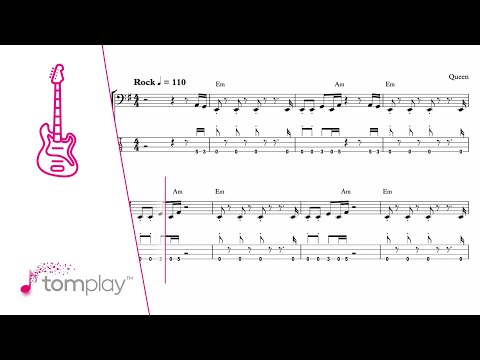 3. Smoke on the Water
A must for every rock fan: With over 12 million singles sold Smoke on the Water by Deep Purple is one of most successful rock classics of all time. It has therefore truly earned its place in the Rock and Roll Hall of Fame!
The riff is one of the most well known among guitarist and bassist alike. In most cases it's one of the first, if not even the first song one learns to play on his instrument. Despite its easy way of playing it remains a musical milestone even after all these decades.
Deep Purple have created an undying legacy with Smoke on the Water. It's still featured on almost every list that features music's greatest accomplishments. And that's why you should put it on your list of songs to play too!
Thanks to Tomplay's multi-track system you can now play Smoke on the Water on bass with optional vocals and with play along accompaniment in several levels of difficulty.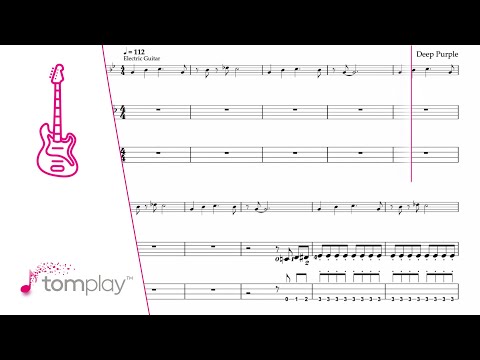 4. Californication
Who doesn't still remember one of summer 2000's most catchy masterpieces? Californication by the Red Hot Chilli Peppers was a massive hit back when it came out - and it still remains one of the most beloved rock songs to date.
In their hit the Red Hot Chilli Peppers don't just focus on pure technical bass music. Instead they intentionally composed it rather simple to make each note hit just perfect. Through this structure the band is dealing with the dark side of Hollywood; Anthony Kiedis's lyrics are criticising pretty much everything he sees wrong with the western world.
In classic fashion the band is precisely using elements of funk to create their unmistakable sound. Despite its simplicity Californication is a truly special experience on every instrument - especially on bass! Flea isn't one of the most beloved bassists of our time without reason.
Play our bass tabs of Californication on bass in several levels of difficulty and with optional vocals.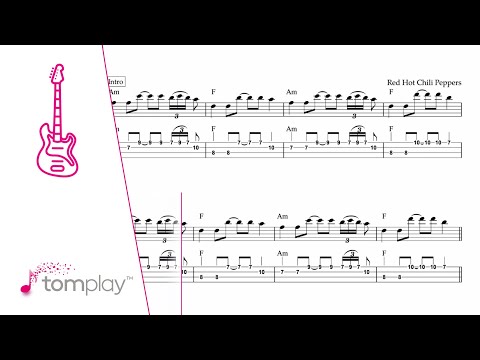 5. Wish you were here
Written by Roger Walters and David Gimour: Wish you were here - from the 1975 album of the same name - is one of Pink Floyd's most popular songs. And with a repertoire of masterpieces that is Pink Floyd's discography - that is nothing short of impressive.
Both musicians have gone on record stating that they think it's one of their best. Every listener instantly knows why: Each note is just composed masterfully and in full harmony with each other. During its intro, which has reached cult status among guitarists of all kinds, an atmosphere is crafted that suits the melancholic lyrics just perfectly.
So it's no wonder that Wish you were here has generated countless covers ever since its release, from Wyclef Jean to Limp Bizkit and Sparklehorse - every rock musician should know these scores by heart.
Thanks to Tomplay's multi-track system you can now play our bass tablature of Wish you were here with optional vocals and in several levels of difficulty.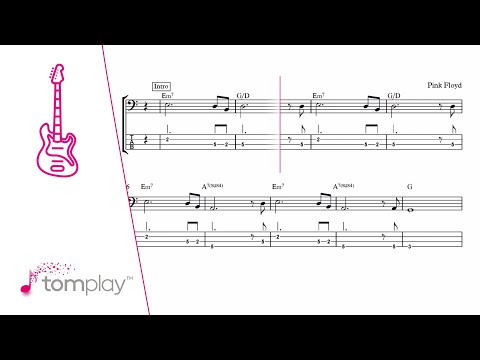 6. Killing in the Name
A song that's still just as important even three decades after its release: With Killing in the Name Rage Against the Machine takes a clear stand against institutionalized racism in the United States of America.
It was only through coincidence that Tom Morello discovered the legendary riff - 1991 it was finally released to the masses. It didn't take long until Killing in the Name became the hymn of the L.A. riots that followed shortly after. But it's not just its thematic aspects that lends the song its significance - it's also a musical achievement.
The bass plays a significant role in its suspenseful build-up to the explosive riff that every rock and metal fan instantly wants to headbang to. Killing in the Name is a perfect example of how important the perfect bassline is to fully land that musical punch.
With our interactive bass scores you can now play Killing in the Name in several levels of difficulty and optional vocals thanks to our multi-track system.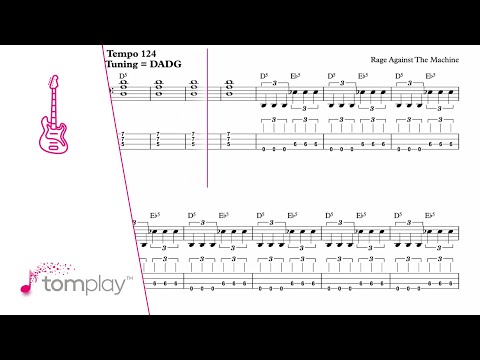 7. Creep
Today, Radiohead is one of the most famous alternative rock bands of our time. Much of their success is due to their debut single Creep, which featured on their first studio album, Pablo Honey; a classic of alternative rock.
Due to the deeply melancholy, sometimes depressing lyrics about an obsessive relationship, the song was initially rarely played by many radio stations. When the track was re-released in 1993, it became an international hit. To date, Creep is the band's most successful single.
The melancholy mood of the text can also be found in the calm playing of the instruments. With their hit, Radiohead have truly created an intense musical experience that no instrumentalist should miss.
Discover our interactive tabs from Creep on bass and play the song in several levels of difficulty.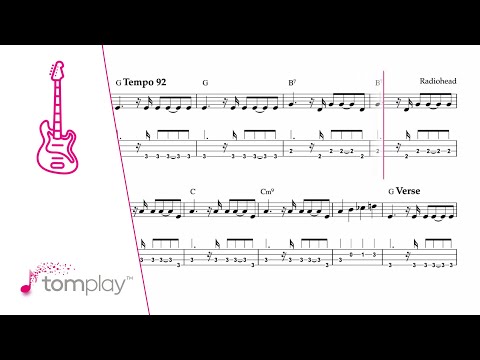 8. Hysteria
Time for a change of pace! Hysteria by Muse is a fast-paced piece full of energy and fun for every bassist. It's not for nothing that the bass line has been on almost every top 10 list since its release in 2003 - and it deserves it!
As a single from the third studio album Absolution, Hysteria was an instant hit back then. The energetic sound is also perfectly captured by the music video: It is about destructive forces that get the heart pumping.
The piece is therefore the perfect opportunity to go one better: the bass line is at a consistently fast tempo and provides your playing with a lot of momentum. Once you've got this song down, as a bassist you're prepared for the time being.
With our interactive tabs you can now play the fast-paced piece Hysteria by Muse on bass, thanks to the multi-track system with optional vocals.
9. Nothing Else Matters
For many of us, they were the initial reason to pick up an instrument: Metallica. Their legendary ballad Nothing Else Matters is one of the most important songs in the metal genre; although its popularity has long since exceeded its limits.
In Germany alone, the single stayed in the charts for over 85 weeks. In addition to countless other awards, the band received a Grammy for the best metal performance. This success has forever changed the landscape of the genre and catapulted it into new spheres.
As a classic metal ballad, Nothing Else Matters fits in perfectly with immortal songs like Stairway to Heaven by Led Zeppelin - and is in no way inferior to them. The tabs of the melodic sound should be firmly anchored in the fingers of every guitarist and bassist.
Play the timeless classic Nothing Else Matters by Metallica with our interactive bass scores, now accompanied by the rest of the band!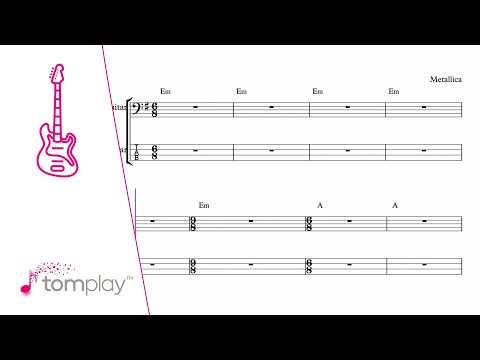 10. Come together
And last but not least another classic: Come Together by The Beatles from one of music's most important years - 1969. In addition to all the other unique hits that the band has created in the course of their important career, it seems almost impossible to choose just one song.
Paul McCartney's smooth bass line is clearly the star here - even though it is a masterpiece in the truest sense of the word on almost every musical level! At a true high point in music history, The Beatles managed to create melodies like hardly any other artist of their time with Come Together.
It cannot be denied: The Band has left an indelible mark on music history. Come Together is just one of the many songs whose legacy should be kept alive by any instrumentalist.
Discover our interactive tablature from Come Together on bass now and play the Beatles hit with optional vocals!