The 10 most beautiful Christmas pieces to play on the Clarinet (with sheet music)
Are you the kind of person who gets excited when temperatures go down? Or maybe you start doing your Christmas shopping in August? Then, this article is for you! We are sharing with you a selection of the most beautiful Christmas clarinet sheet music to play with Tomplay, arranged with different levels of difficulty. Practice some new songs with your clarinet and display the magic of Christmas to everybody around you!
Not enough for your Christmas appetite? You can find more in our selection of Christmas clarinet songs directly in our clarinet catalogue:
1. Feliz Navidad
Imagine being used to spending Christmas surrounded by friends and family, going carolling, drinking rum and eating traditional Puerto Rican food, but spending Christmas alone in New York instead? That's what happened to José Feliciano, a singer and songwriter, in 1970. Lonely and homesick, he got inspired to write Feliz Navidad. He turned all those emotions into an upbeat and positive song, with lyrics both in English and Spanish.
The song became one of the most popular Christmas songs in Canada and in the US and one of the 25 most played and recorded Christmas songs around the world. It got covered by Boney M and Michael Bublé, but also Feliciano himself who later recorded a ska version-different Christmas vibe.
Bring positivity and joy to your friends and family with Feliz Navidad arranged for an easy level, perfect for beginners! Thanks to Tomplay, you can play this carol on the clarinet, along with the orchestra audio play-along!
2. Have Yourself a Merry Little Christmas
Have Yourself A Merry Little Christmas was written by Hugh Martin and Ralph Blaine in 1944. At that time, the pair was composing pieces for MGM studios and Broadway musicals. But their collaboration around the movie Meet Me in Saint Louis gave birth to their most well-known pieces with "The Boy Next Door", "The Trolley Song" and "Have Yourself a Merry Little Christmas".
The song appears in a scene where Judy Garland tries to cheer up her younger sister on Christmas Eve since their family have had a hard time shortly before. Hence the original lyrics were less about being joly and more about "How to survive the crisis" kind of thing. Probably the reason why the song became popular among US troops serving in Europe during WWII.
Spread hope all around you with Have Yourself A Merry Little Christmas arranged for clarinet by Tomplay, in an easy/intermediate level and with an orchestra accompaniment.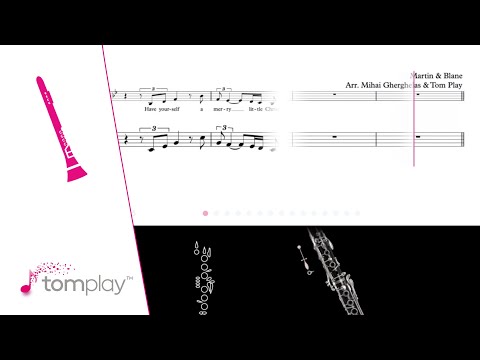 3. Jingle Bells
"Dashing through the snow, in a one-horse open sleigh": ok, you probably don't know the lyrics that come after that, but you certainly will recognize this tune anywhere in a blink, isn't it? It was first published by James Pierpont in Boston in 1857 under the title "One Horse Open Sleigh".
The song became widely popular as its carefree and joyful tone made it quickly associated with Christmas and the holiday seasons. Origins of the song are less jolly though: in need of money, it seems that the composer used some parts of lyrics and tunes from other sleigh-riding songs, a popular genre at that time. Despite this, James Pierpont was later voted into the Songwriter Hall of Fame- "laughing all the way hehe".
Discover the Christmas clarinet music sheet of Jingle Bells arranged by Tomplay for an easy level, with piano accompaniment and have fun while making your friends sing along.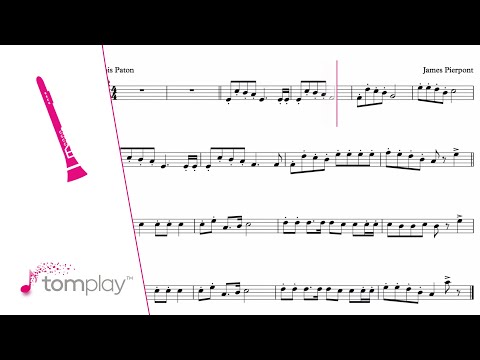 4. Let It Snow
What could you be wishing for, in the middle of a heatwave, in July, in California? Ice cubes, air conditioning and for Sammy Cahn and Jule Styne: snow! This gave the two the inspiration to write "Let it snow" in 1945. Far from climatic considerations, the song was quickly used by radio stations as a perfect holiday piece since it's referring to winter favorites activities.
Funny enough, Cahn and Styne decided to join forces again to write...a tune celebrating warm weather! Written in 1946, "The things we did last summer" lyrics invite the listener to rely on cheerful summer memories in order to get through the cold winter-talk about irony!
Get all cosy and cuddly with the Christmas clarinet sheet music of Let It Snow, arranged for an intermediate level and takes advantage of the many playing features offered by Tomplay.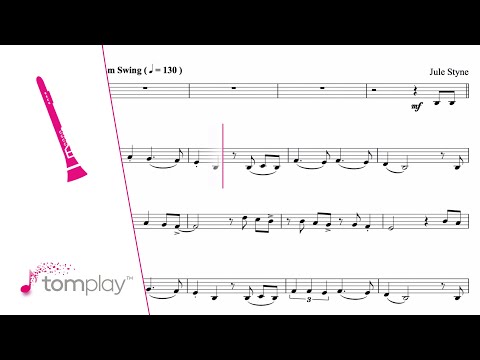 5. Little Drummer Boy
Written in 1941 by American composer Katherine Kennicott Davis, the song tells the story of a boy who was brought to the Nativity scene by the Maggi: having nothing to bring to the newborn Jesus, he decided to show his drum skills as a present instead. Originally titled "Carol of the drum", the first music score of it had a "Czech Carol freely transcribed by K.K.D." mention. However, this was later removed and the link to earlier productions was never officially proved.
Initially written for choir practice, the song was later recorded by the Trapp Family Singers for the first time in 1951, contributing to its popularity worldwide. The song has been covered by dozens of artists since. Among which the most noticeable version of all: a mashup between "The Little Drummer Boy" and "Peace on Earth" sung by the unlikely duet Bing Crosby and David Bowie.
Here is a more traditional version of Little Drummer Boy, by Susan Boyle, arranged for easy/intermediate level by Tomplay, with an orchestra accompaniment. It is time to enrich your collection of Christmas clarinet sheet music of another classic!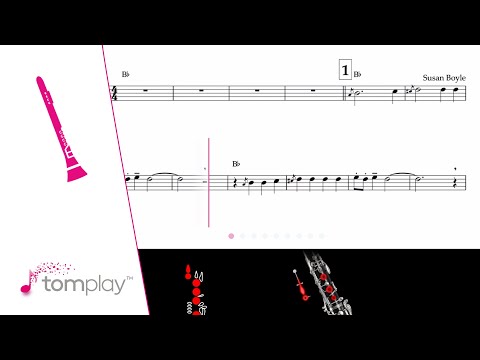 6. O Christmas Tree
Do you know this feeling that a song is so familiar, so popular in your country that you are 100% sure that it is from there, only to later discover it's not at all? Well, brace yourself: "O Christmas Tree" is actually a German song. Based on a traditional folk piece, the tune was later enriched by organist and composer Ernst Anschütz who added the lyrics that we now know in 1824. Anschütz actually based his text on an old 16th century Silesian folk song. So basically "O Tannenbaum" was born from the copy-paste of a German tune with some old Czech lyrics.
The song doesn't directly mention anything about Christmas: it describes a silver fir (ok, a Christmas tree) and uses it as a symbol of faithfulness and hope through the hard German winter. The piece is a Christmas classic that got covered and re-recorded countless times through the years.
Discover the Christmas clarinet music sheet of O Christmas Tree arranged by Tomplay in an easy level, with orchestra accompaniment, and make everyone sing around the decorated tree, even if you are a beginner!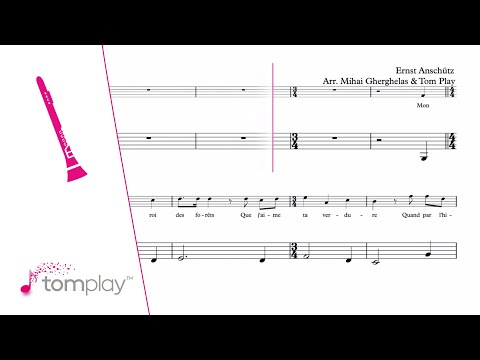 7. O Come, O Come Emmanuel
Unlike all the pieces we talked about previously, "O Come, O Come Emmanuel" is a proper holiday season piece, as it is traditionally played for Advent and Christmas. The text could have been written in Latin as early as the 8th century, however, it was documented for the first time in 1710 only.
Unusually, the tune that goes with it has been fluctuating and can be different from one country to another for instance. The most popular one-and the one played nowadays, is known as the "Veni Emmanuel '' tune and was first associated with the lyrics in 1851. A little bit of this, a little bit of that gave this traditional Christian Christmas piece. It most recently gained popularity with modern covers, from U2 and Bad Religion for instance.

Return to the main purpose of the Christmas celebration with the Christmas clarinet music sheet of O Come, O Come Emmanuel arranged by Tomplay in an easy/intermediate level, and play along with our piano audio accompaniment!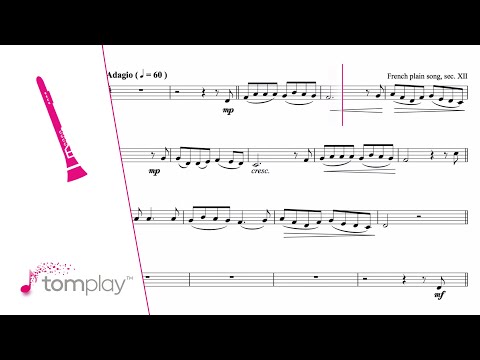 8. O Holy Night
I know what you are thinking: hold on, isn't the title supposed to be Silent Night or something? No, you're mixing up with the next title of our selection...Here, we are talking about a piece whose original title is Minuit, chrétiens. Based on a poem of Placide Cappeau written in 1843 and music composed by Adolphe Adam, the piece premiered to celebrate the recent organ renovation of a church in Roquemaure, France.
The song was later titled Cantique de Noël before being translated into English by John Sullivan Dwight. The piece quickly became popular under the name O Holy Night in the United States and other English speaking countries. In France, it is traditionally played at the beginning of midnight masses, but in the rest of the world, its popularity is also due to countless covers, including some by Patti Labelle and Jennifer Hudson.
Open the carolling season with the Christmas clarinet song of O Holy Night in a version arranged with orchestra accompaniment and for an intermediate level, courtesy of Tomplay!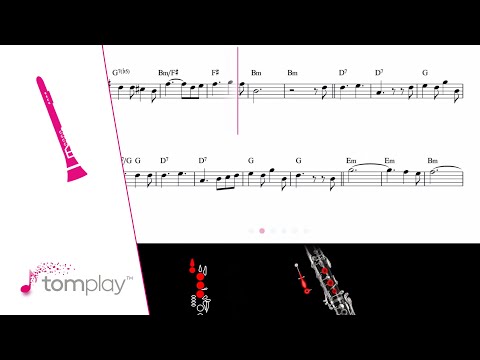 9. Silent night
Shortly before Christmas 1818, Joseph Mohr, the father in charge of a congregation in Austria thought he could use Stille Nacht, a poem he had written several years earlier, to make the Christmas celebration in his church more festive. He asked Franz Xaver Gruber, an organist from the neighbouring village, to write the melody and, a few hours later, the carol was played for the first time during the Christmas Eve mass.
The piece became well known in Austria, partially with the help of 2 traveller families of folk singers who included the tune in their Christmas show and contributed to spreading its popularity. The song got translated into English in 1859, but is now translated into about 140 languages!
Play the Christmas clarinet sheet music of Silent Night arranged for intermediate level by Tomplay, and create a bit of Christmas magic while playing with an orchestral accompaniment!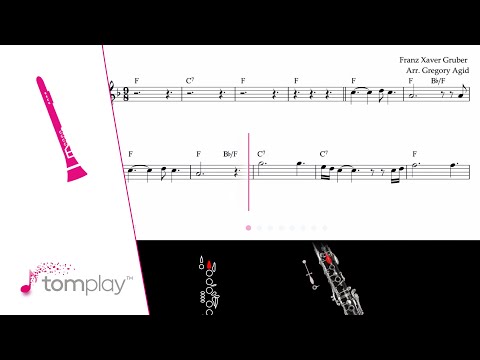 10. We Wish You a Merry Christmas
We Wish You a Merry Christmas comes from a long tradition of carolling. Even though its origins are not certain, we know it was composed in the 16th century in the South West of England. It was later popularised by the composer Arthur Warrell who arranged the music score in four elaborated singing parts. He then sang this version with the University of Bristol Madrigal Singers for the first time in 1935.
The carol became quickly popular in English speaking countries, first in the UK, then in the US. Upbeat and positive, it is now a Christmas classic that you can find in any music compilation or movie related to Christmas. Rehearse the lyrics, brace yourself and be prepared to hear it a lot over the next few weeks!
Get in the Christmas spirit with Tomplay and the Christmas clarinet song We Wish You a Merry Christmas arranged by Tomplay in a very easy level, with piano audio play along.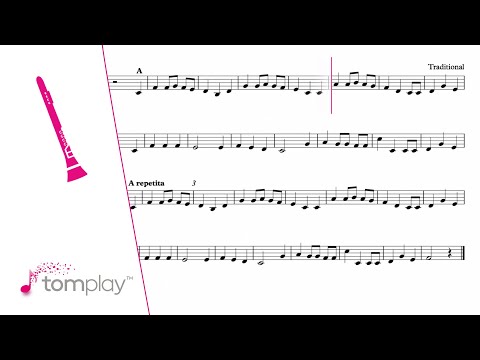 We hope you liked our selection! If you are looking for more Christmas clarinet sheet music, please check our entire catalogue below: