7 love songs to play on the saxophone
What an inexhaustible and timeless genre the love song is! This universal subject is used in a unique way every time by artists and is constantly renewed by them. Even the greatest Rock groups which cultivate a "hard" image have their own successful romantic ballad!

In this article, explore a selection of 7 cult romantic songs to play on the saxophone to celebrate Saint Valentine's Day and spread a little love around you! Check out too our sheet music Collections of the most beautiful songs to play for Saint Valentine's Day.

For each title, you'll find the link to the sheet music for alto, tenor and soprano saxophone in several levels of difficulty and including the play-along professional recordings to accompany you!
If you look to learn the Saxophone notes, try our Saxophone fingering chart tool.
1. Perfect - Ed Sheeran
To begin, we wanted to introduce you to "Perfect", a sublime love song released in 2017 and now become a cult song, dedicated to the artist Ed Sheeran's fiancée.
Not wanting to allow his career to be defined by his first hits, the singer was sure he had found a solid follow-up to his first hits in this romantic ballad, of which he is very proud.
Ed Sheeran has revealed that the lyrics came to him at James Blunt's home in Ibiza, where the two singers were listening to the piece "March Madness" by Future at 6 o'clock in the morning. He said: "Barefoot on the grass, we were dancing to our favourite song; I booked the studio for the day and finished "Perfect" that day. I knew it was special."
His brother Matthew Sheeran created the song's orchestration. It was the first time that they had collaborated on a piece of music, thus realizing their grandmother's wish to see the two brothers working together before she died.
Start the backing tracks included in the sheet music and play "Perfect" accompanied by professional musicians studio-recorded by us. Help yourself too by using the many Tomplay features in order to learn the piece efficiently.
2. All of Me - John Legend
Let's take a look now at a so-wonderfully written - and soberly arranged - declaration which has gone straight to our hearts.
Released in February 2013 on the album Love in the Future, the song "All of Me" is one of the greatest hits of the decade and has made John Legend one of the most admired singer-songwriters of his generation.
John Stephens - John Legend's real name - co-wrote this title with Toby Gad, also known for having co-written and produced many other hits, including Beyoncé's "If I Were a Boy", "Big Girls Don't Cry" by Fergie and "Skyscraper" by Demi Lovato.
"All of Me" was inspired by the idyllic relationship between the singer and his wife, the model Chrissy Teigen. The two lovebirds met in 2007 during the filming of one of John Legend's video clips and were married in 2013.
At the end of the video clip of "All of Me", we see some fleeting images of their wedding by the exquisite Lake Como in Italy, surrounded by mountains and flowers. The rest of the video was filmed several days before their marriage.
The song talks about all-consuming, but balanced passion:
"Even when I lose, I'm winnin'
My head's under water, but I'm breathing fine
I give you all of me, you give me all of you"
The author adds: "At the same time as you're giving everything up, you're gaining everything, and that's what the whole song is about."
John Legend hadn't had a hit in the United Kingdom since his title "Ordinary People", released in 2004. Ten years later, "All of Me" got to number one in the charts and has sold more than a million copies. A great achievement which proves once again that the public will never tire of passionate, sincere declarations of love!
Explore the Tomplay sheet music of "All of Me" for alto, tenor and soprano saxophone arranged in several levels of difficulty in order to make them accessible to all saxophonists and play accompanied by the professional play-along backing tracks!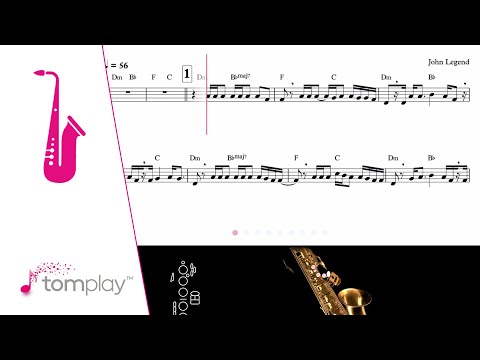 3.

I Will Always Love You - Whitney Houston
A legendary love song "I Will Always Love You" is the hit which powered Whitney Houston to iconic status.
However, the famous diva was not at the origin of this song, but the American country singer Dolly Parton. She composed the music, wrote the lyrics and performed "I Will Always Love You" for the first time in 1973.
The idea apparently came from her mentor Porter Wagoner, also a country singer, with whom she shared the stage for many years and who advised her to write more love songs.
This song remained modestly successful until Whitney Houston made a slower, more soul-sounding cover version of it in 1992.
At that time, she was taking her first steps as an actress alongside Kevin Costner for the film Bodyguard. Already well-known as a singer, she recorded the song for the film's soundtrack - a successful formula which she then continued for other films.
Explore the Tomplay interactive sheet music of "I Will Always Love You" for alto and tenor saxophone and play with the play-along backing track recorded by professional musicians!
4. Careless Whisper - George Michael
Do you want to hum along from the very first notes on the saxophone? No doubt, it has to be "Careless Whisper" by George Michael!
George Michael began composing "Careless Whisper" in 1981 when he had just reached adulthood. It came to him on the bus taking him to the restaurant where he was working as a disc-jockey.
He later confided in his autobiography that he had had the saxophone riff in his head since he had first thought of the piece. He felt very strongly about this solo: several saxophonists were auditioned before the piece was recorded in 1983. It was finally Steve Gregory who was selected to play the solo, which has since become one of the most well-known in popular music!
Although the song appears to evoke the theme of love, the lyrics refer more to a story of infidelity. George Michael was inspired by his own experience: as an adolescent, he had been in a relationship with a girl called Helen and at the same time was in another relationship with a certain Jane.
The refrain clearly evokes this feeling of guilt and in the lyrics we feel that the break-up is close: "So I'm never gonna dance again / The way I danced with you."
Explore the interactive sheet music of "Careless Whisper" for soprano, alto and tenor saxophone and take advantage of the many features made available by Tomplay!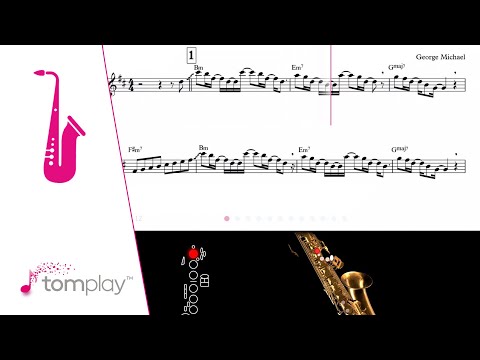 5.

My Heart Will Go On - Céline Dion
The film score composer James Horner (who has several successful Hollywood films to his name) needs no further introduction and was particularly well known for regularly using instruments of Celtic origin in his compositions.
His career took off with the music for the James Cameron film Aliens, but his score for Titanic (by the same director) remains the most widely-sold film score in the world. It won him many awards, just like the music for Braveheart.
Originally, Cameron didn't want a song to accompany the credits at the end of his film, but he hadn't reckoned on Horner, who secretly composed the melody and gave it to Will Jenning to write the lyrics.
For Titanic, they needed a soundtrack to match the heart-breaking love story of Jack and Rose. They needed a song which increased in power and a full-bodied voice, somewhat like "I Will Always Love You" mentioned above. And so "My heart will go on" was born.
As for Céline Dion, who was felt to be the candidate capable of changing the director's mind, she wasn't sure about it when she first heard the song. Her husband, René Angelil, had to convince her to record a demo.
The singer admits that she was unwell on the day of the recording: she drank some black coffee, which had the effect of accelerating her vibrato (not her original aim!). After having got to know the story of the film, she went into the recording booth. Just one take was enough and the director was won over.
Another legendary film score in the History of cinema. More than 15 million copies of "My Heart Will Go On" have been sold. It was the highest-selling record in 1998 and propelled Céline Dion into the pantheon of the most widely-heard voices in the world.
Explore our sheet music of "My Heart Will Go On" for alto and tenor saxophone with the orchestral accompaniment synchronised with the sheet music.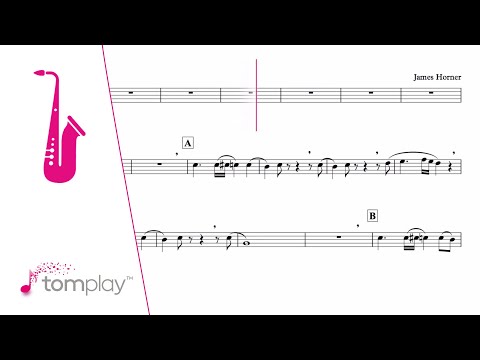 6.

Can You Feel The Love Tonight - Elton John
A legendary song, "Can You Feel the Love Tonight" was written for the film The Lion King in 1994.
This classic from the Disney studios portrays themes such as honour, courage, loyalty and, of course, love, perfectly illustrated by this hit composed and performed by Elton John and set to lyrics by Tim Rice.
We hear it when Simba finds his childhood friend Nala again and falls in love with her. Elton John composed a piece faithful to the tradition of the great love songs of Disney films, translating the feelings of the lions better than any dialogue. More than 11 million copies of this highly-successful song have been sold.
It was therefore obvious that we would re-discover Elton John and his hit in the new Lion King film by John Favreau, released in 2019! As with the first instalment, Hans Zimmer undertook the re-working of the film score. You can find more information about this in our article below, Elton John returns on the original soundtrack of the new Lion King film.
What a joy to be able to go back into childhood again to play "Can You Feel the Love Tonight"! Thanks to the new version of the animated film The Lion King, the film and its music have been updated for today's audiences and remain timeless, shared by all generations!
Explore our sheet music of "Can You Feel The Love Tonight" for alto and tenor saxophone with a studio-recorded orchestral accompaniment synchronised with the sheet music.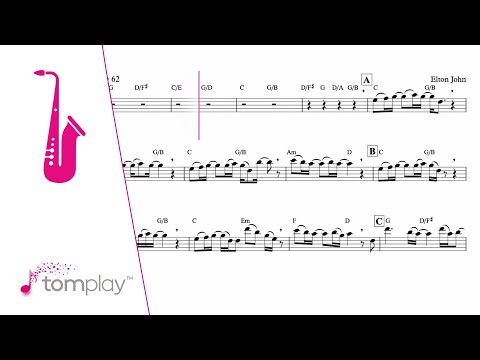 7. S

hallow - Bradley Cooper & Lady Gaga
To finish, we've chosen to talk about "Shallow" - performed as a duet by Lady Gaga and Bradley Cooper - the stand-out song of the film A Star Is Born, Bradley Cooper's American musical film released in 2018.
This song is not simply the one which seals the romance between Ally and Jackson, the film's two main characters. "Shallow" means superficial, whereas the song deals with exactly the opposite.
More than a dialogue between two singers, it's an open discussion between a man and a woman, deep listening and a connection.
Everyone can interpret the song as they understand it, but one thing is certain: its lyrics also refer to passing love affairs manufactured by the modern world. Some people prefer to remain "superficial" from a fear of losing themselves, suffering or simply because it's easier.
About that, Lady Gaga has said: "in this song, we're not just projecting a conversation, but also a very poignant declaration: 'I don't want to be shallow, but I am.'
I think it's something that speaks to a lot of people and I think, during a very shallow period, it's an opportunity for us to take hold of someone else's hand and dive in together and swim in the deep end. We can do it."
Hailed both by the public and critics, the film and its soundtrack have won more than sixty prizes.
Explore the Tomplay sheet music of "Shallow" for alto, tenor and soprano saxophone arranged in several levels of difficulty in order to make it accessible to all saxophonists and play accompanied by the professional play-along backing tracks.