How to Play Saxophone - 10 Tips for Beginners to Learn Saxophone
Beginner saxophone players usually find that they can start playing easy tunes on their instrument relatively quickly. But what's the secret sauce to make your saxophone playing sound amazing? Don't worry, we won't recommend that you play scales for several hours every day. Neither do we think that practicing the same saxophone piece for months is going to boost your motivation. No matter if you play alto, soprano, or tenor saxophone, the tips included in this guide on how to play the saxophone are universal for all saxophonists and will get you playing in no time!
So let's jump right into our top 10 tips to help you learn how to play the saxophone!
1. Know your music notes and how to play them on the saxophone
Did you ever wonder how to play those high notes on your saxophone? Or how to arrange your fingers to play those sharpened (#) or flattened (b) notes? We've got you covered with Tomplay's saxophone fingering charts.
The interactive fingering chart tool lets you select any note and play it back to you on a visual instrument showing you the relevant keys and levers. In addition, you can download the PDF saxophone fingering chart which has all fingerings summarized on one handy page for you. And here is the best part: both the saxophone fingering chart tool and PDF are absolutely free. You can dive in and snag your copy of our Saxophone fingering charts right here.
2. Train your ear and become an intonation pro on the saxophone
Once you are able to play a range of notes on your soprano, alto or tenor saxophone you might wonder how to make sure you are playing in tune? The fancy word for being in tune is "intonation" which stands for the accuracy of your saxophone's pitch. There are countless ways to practice your intonation but which one is the most fun? We tried the In Tune app for iOS and loved how it helps you train your ear by playing a simple yet effective musical game. Improving your intonation will make a huge difference to your saxophone playing and it is extremely useful when playing together with other musicians.
3. Sing it again, Sam! How singing will transform your saxophone playing
By reading this headline, you might think: "Why on earth does singing improve my saxophone playing?!". What might seem counterintuitive at first is in fact one of the biggest secrets of professional sax players. When you can sing a saxophone melody in tune, you know exactly what the notes should sound like in your head. Being able to imagine the notes before you actually play them on your saxophone is a huge game changer!
But don't worry, you don't have to be a trained singer to be able to do this. All it takes is to sing along to a saxophone tune with just one syllable (e.g. la-la-la or da-da-da). If you have a piano or keyboard at home you can play each note of the saxophone sheet music and sing to it. Alternatively, you can just select the play-along track of the solo saxophone within your Tomplay sheet music app and sing along to it. By the way, as we learned from the movie Sister Act, the louder you sing the better your tune is going to be. So go for it and sing your heart out! :)
4. Take a deep breath… and try these breathing techniques for saxophone players
"Just breathe!" is easier said than done for most saxophone players. Most beginner saxophonists find it challenging to get enough air into their lungs to be able to play long notes or phrases of several bars within a saxophone piece. Nigel McGill from McGill Music Sax School shares some of his top breathing tips and techniques in this short video:
5. Embouchure is everything! Learn how to exercise your mouth muscles for a great tone on your saxophone
Here is another fancy word that you will come across when learning how to play the saxophone. The word Embouchure is derived from the French word for mouth ("bouche") and stands for the way in which a player applies their mouth to the mouthpiece of a brass or wind instrument, especially as it affects the production of the sound.
Exercising your embouchure muscles will much improve your tone and endurance on the saxophone. But let's start from the beginning! Jay Metcalf from bettersax.com takes you through everything you need to know about your embouchure and how to improve it in this free video lesson: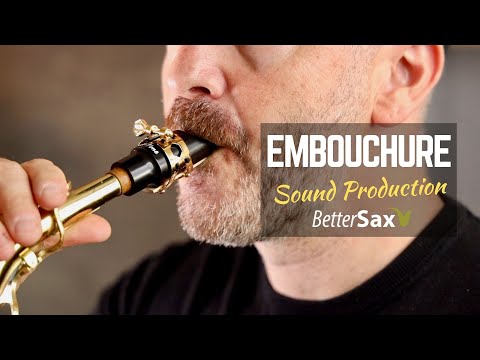 6. (Sheet) Music was my first love… Find saxophone sheet music that fits your level (and that you love to play)
If you ask yourself, "What saxophone sheet music should I play as a beginner?", our short answer is: Play what you love!!
Ok, but where to start with hundreds of thousand saxophone sheet music titles out there? And how to make sure that they fit your level? Here is the good news: What sounds like a lot of work is what we love doing everyday here at Tomplay. We receive hundreds of song requests every year from musicians just like you.
Our team of professional musicians then goes through every single request and produces the sheet music as well as the play-along tracks for several different instruments and skill levels. When everything is ready the sheet music is published on the Tomplay sheet music catalog for you and other musicians from around the world to enjoy. And to help you find the right saxophone sheet music, you can even filter by music style, difficulty level, and more. You can try our Tomplay saxophone sheet music with play-alongs for free here.
7. Teamwork makes the dream work! Partner up with other musicians
Music is the most fun when you play together with like-minded musicians. And it will further boost your motivation and improve your saxophone skills more quickly to play in a band, orchestra or ensemble. We know that things have been tough over the past 1.5 years due to Covid19 and that it has not always been possible to play live in a room with other musicians. If you wonder how to get the ultimate band feeling whilst playing the saxophone by yourself, we might be able to help you out.
Our Tomplay saxophone sheet music comes with a range of interactive play-along tracks. You will be able to choose the accompaniment, change the tempo, adjust the volume of the play-alongs, and much more.
Are you ready to give it a try? Here is the best part: The first 14 days of our Tomplay Premium subscription are absolutely free and you can cancel it anytime. The 14-day free trial will give you full access to the entire sheet music catalog for alto, soprano and tenor saxophone (as well as all other instruments). How cool is that?! Here is how to get started for free with Tomplay's saxophone sheet music with play-alongs.
8. Record yourself and listen back to your performance
Did you ever wonder why your voice sounds different when you listen back to it on a recording? This has something to do with the bones in your head vibrating when you speak. And when you listen back to a recording of your voice, you hear only your voice without your additional head vibrations. The same is true for playing the saxophone. Whilst you are playing your sax, it always sounds different in your head compared to what is perceived from the outside.
So be brave, hit that record button, and listen back to your performance! And don't be too self-critical: your recordings are just for you to practice. You don't need to share them with anyone and you can delete them again anytime. Just give it a go! :)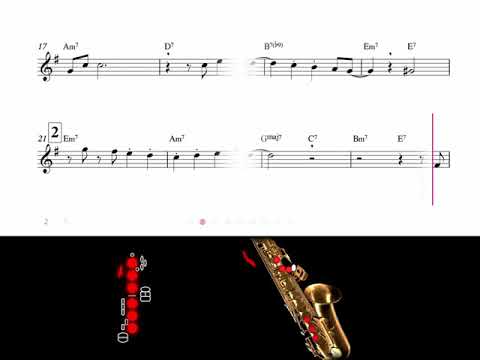 9. Play your sax where the magic happens… on stage!
This might sound bold but it's true, musicians of all levels improve their instrument skills fastest when they pursue the goal to play in public. But don't worry, playing your saxophone in public doesn't mean that you have to play a concert in front of thousands of people. The possibilities for beginner saxophone players to play on stage are endless. Just look out for saxophone workshops, open mic nights, music school concerts either within your local area or online. Busking (i.e. playing street performances in public places in exchange for gratuities) is also very popular amongst amateur saxophonists.
You can even perform with your Tomplay sheet music and play-along tracks on stage if you fancy. You can just download our free Tomplay app for your iOS or Android device, download your favorite tunes within the app and play your favorite saxophone sheet music offline wherever you are without having to worry about your internet connection.
We'd love to hear you play and see you shine. So please don't forget to tag us on Instagram, Facebook or YouTube if you publish a video of your performance.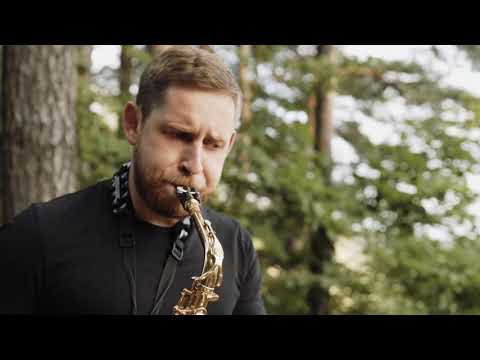 10. And most importantly: HAVE FUN playing your saxophone!!!
Yes, learning to play the saxophone involves some work and practice but more importantly, it is A LOT OF FUN! When you focus on playing music that you love with people who inspire you in addition to some effective training with a professional sax teacher, you will soon become a great saxophone player!
What has been your biggest aha moment since you've started learning to play the saxophone? We can't wait to hear your story in the comments below!