10 gentle, relaxing pieces to play on the piano
In this article, we're introducing you to a selection of 10 gentle, relaxing pieces to play on solo piano. Among them, you'll find works by Chopin, Debussy, Satie and many others. Click on the links to find the Tomplay sheet music of these pieces. We have already brought together some superbly relaxing pieces for solo piano into some sheet music Collections. Happy reading!
▶️ Play the most beautiful, gentle and relaxing music on the piano
1.Debussy - Suite bergamasque, L.75 - No. 3 Clair de Lune
Let's begin our journey by visiting a must of classical music, written by one of the most remarkable composers of the post-romantic/modern period: Debussy's famous Clair de Lune.
Claude Debussy had a complex, elusive personality which was both timid and wild, awkward and astonishing, and he was seen as eccentric by his teachers.
He was passionate about music, poetry and art and was also a bit of a womaniser. He had one daughter, Chouchou, with Emma Bardac, his second wife, who was at his side until he died.
Debussy was a musical painter, substituting notes for colours. Among his most well-known works are La fille aux Cheveux de Lin (The Girl with the Flaxen Hair in English), Arabesque No. 1, Rêverie and the famous Clair de Lune, from the Suite Bergamasque.
This Suite is often considered the best composition for the piano from his youth. Written around 1890, it was published in 1905 and is in four movements, Prélude, Menuet, Clair de Lune and Passepied.
In order to perform the Clair de Lune correctly, you firstly have to think about your tempo before you begin to play. If the tempo is too slow, the phrasing will lack suppleness and expression.
In the same way, the left hand should be played more softly than the right hand, so you must ensure that the sound is balanced.
To finish, enjoy the rubato section! Let your performance flow freely.
Classified at intermediate-advanced level in the Tomplay app, Debussy's Clair de Lune is accessible to amateur pianists who have already been practising for some years, particularly owing to its delicate playing.
The original Tomplay sheet music of the Clair de Lune contains fingering, as well as a studio recording by a professional pianist to help you learn it.
2. Liszt - Liebestraum No. 3 (Dream of Love)
Many pianists tremble at the name of Franz Liszt! Extreme virtuosity, tumultuous harmonies and diabolical trills: these are words which come to mind to describe the work of this passionate, impetuous character who was one of the greatest pianists in the history of music.
However, Liszt also composed some very profound pieces with gentle, expressive melodies. This is particularly the case with Liebestraum No. 3 (Dream of Love), composed between 1843 and 1850 and taken from a collection of three Liebestraüme.
Was Liszt inspired to write this by his own love affair with Marie d'Agoult, made difficult by the distance between them?
At all events, we know that the collection was at first thought of as an accompaniment to three poems written by Ludwig Uhland and Ferdinand Freiligath. The most common interpretation is that they each describe a form of love. After having talked about religious love in the first poem, Uhland dedicated his second poem to erotic love. As for the third text by Freiligath, this depicts unconditional love: "O lieb', solang du lieben kannst!" ("Love as long as you can love!").
This sheet music is not that easy! Performing it requires impeccable fingering as it is both tender and melancholy and, as with many pieces by Franz Liszt, mastering the technique requires a certain level of virtuosity.
We have arranged Liebestraum No. 3 in several levels of difficulty (from very easy to intermediate-advanced) in order to make this piece accessible to all pianists. You will find the first Poco allegro con affetto part there, which is perfectly suited to this selection of gentle music.
Explore the Tomplay interactive sheet music of Liebestraum No. 3 (Dream of Love) and let yourself be carried away by the performance by Daniel Barenboim synchronised with the sheet music.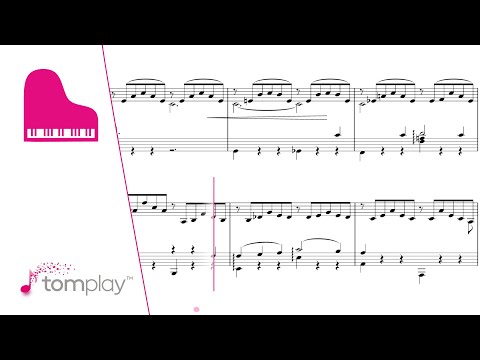 3. Chopin - Prelude No. 15 in D flat major, 'The Raindrop', Opus 28
Inspired by the rainy atmosphere of the Majorcan winter, Chopin composed the "Raindrop" Prelude in D flat major in 1838.
In her memoires, his partner George Sand talks about the argument they had when she told him that he was composing by simply imitating the sounds made by the raindrops on the roof, which enraged the composer! However, it was he himself who gave the, now very famous, nickname to his fifteenth Prelude.
There are few easy pieces in Chopin's repertoire, but this Prelude is a good choice if you wish to play one of his pieces at an intermediate level.
In order to help you master the subtle interpretation of this "Raindrop" Prelude, we invite you to listen to the recording by Martha Argerich included in the Tomplay interactive score. This scrolls automatically on your screen with the reading cursor which allows you to follow the playing of the piece very easily.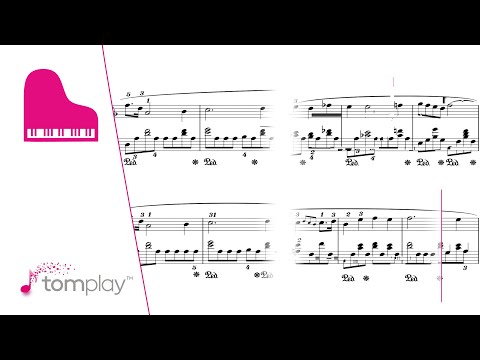 4. Schubert - Impromptu No. 3 in G flat major, D. 899, Opus 90
In the same spirit as the poetic impromptu - a little piece in verse composed on-the-spot and without preparation - "in promptu" meaning "available" - the musical impromptu is a free-form work in which the composer convinces the listener that it is a sort of instant improvisation.
Schubert's Impromptus are a series of eight pieces for solo piano composed in 1827. They were published in two series of four impromptus each (D. 899 and D. 935).
The Impromptu No. 3 in G flat major, D. 899, is part of a cycle of four Impromptus which Schubert composed during a holiday in Graz in Austria. He was staying there with a couple of friends, of whom the wife, Marie Pachler, was an excellent pianist.
This Impromptu is a demonstration of Schubert's exceptional lyrical facility, as well as his penchant for long melodic lines. While this third Impromptu appears to prolong the meditation of the first, the second and fourth shimmer like a gentle daydream.
Perform the Impromptu No. 3, D. 899, Opus 90 drawing from the professional recording of the piece synchronised with the Tomplay interactive sheet music and adjust the tempo in order to easily put both hands together.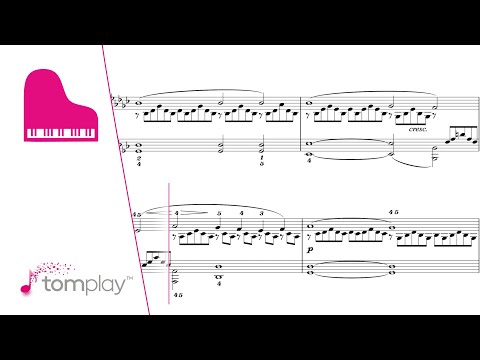 5. Tchaikovsky - The Seasons - VI. June: Barcarolle
Let's take a look at The Seasons cycle by Tchaikovsky, an ensemble of twelve short, characterful pieces for solo piano each illustrating one month of the year and created at the same time as his first Piano Concerto and his music for Swan Lake.
These pieces were designed to be published in the Nouvelliste, a monthly music magazine in Saint Petersburg. Tchaikovsky found the exercise so simple that he asked his servant to remind him each month and then sent off a piece written in one go!
In spite of having been written with a certain degree of nonchalance, it is a brilliant cycle. Each piece making it up has its own charm and subtlety; they are sometimes playful, sometimes melancholy, but are all bewitching and typically Russian in character.
These short works are all accompanied by several lines of poetry. Those attributed to the month of June - the sheet music we wanted to introduce you to here - were written by the Russian poet Alexei Pletcheiev:
"Let us go to the shore;
There the waves will kiss our legs.
With mysterious sadness
The stars will shine down on us."
The Barcarolle from June, from Tchaikovsky's The Seasons cycle, is classified at intermediate-advanced level in the Tomplay app. This contains fingering and is synchronised with the high-quality recording of a professional pianist to guide you.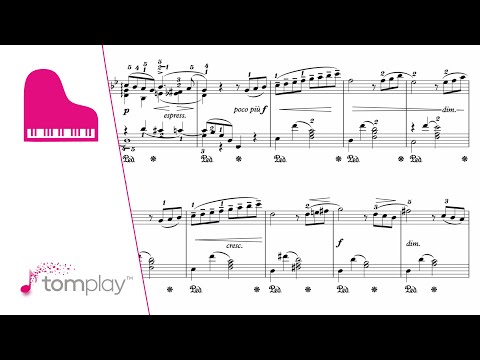 6. Yiruma - River Flows in You
Let's continue our journey to the heart of time and get closer to our own era to explore the work of Yiruma, a South Korean pianist and composer. A New Age artist known the world over, he emerged like a revelation in 2001.
His most famous compositions are "Kiss the Rain" and "River Flows in You", a piece included in the soundtrack of the film Twilight. Light and airy, it is perfectly at home within our selection of gentle music.
The main theme of "River Flows in You" is repeated and develops throughout the piece, like other pieces by the same composer. Although it is based on several chords, it is a very expressive and accessible piece which does not require a great deal of experience at the piano, but a certain sensitivity.
Explore the Tomplay sheet music of "River Flows in You" by Yiruma and take advantage of the separate hands function, fingering and the professional recording of the piece synchronised with the sheet music.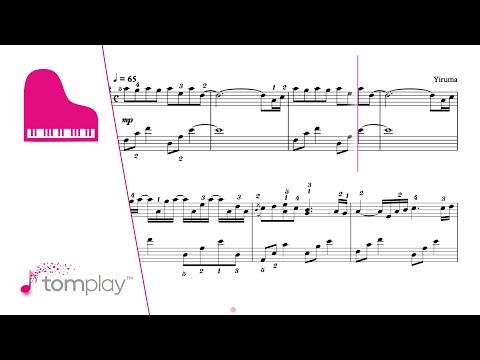 Who doesn't know the famous Gymnopédie No. 1 by Erik Satie? A slow waltz, misty and minimalist in nature, its title makes us think of a ritual dance by young naked dancers during the time of Ancient Greece. Even though it is now among the unmissable pieces for the piano, it didn't always have the same reputation!
Composed in 1888, the Gymnopédies were quickly published, but without great success. Several years later, wanting to give his friend Satie's career a boost, Claude Debussy decided to orchestrate them and perform them in concert. Unfortunately, nothing went as planned.
Although the critics spared Debussy, what they wrote about Satie following this concert was particularly vicious: he is described as an "idiotic mystic", a "restless ignoramus" and even an "irritating, obsequious pothead" by one journalist at the Echo de Paris. Following the appearance of this article, the Gymnopédies and, more widely, Satie's compositions, were not played in concert for some time.
It was not until the no-less famous Maurice Ravel, also a friend of Satie's, decided to play three Satie works for the piano in concert in 1911. This time, the critics were full of admiration. Erik Satie and his Gymnopédies gained notoriety thanks to him.
Practise playing Satie's Gymnopédie No. 1 with the Tomplay interactive sheet music: take advantage of the fingering included in the sheet music, the on-screen keyboard and the professional recording of the piece!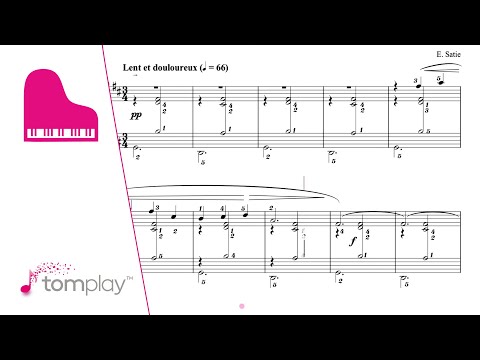 8. Tiersen - Porz Goret
Known worldwide for his musical score for the film Le fabuleux destin d'Amélie Poulain, for which he obtained a César award in 2002, Yann Tiersen is a French singer-songwriter and multi-instrumentalist whose piano compositions are particularly remarkable.
A native of Brittany, he followed an intensive course to learn the Breton language in six months. This mastery of the language has in particular allowed him to understand the names of the locations of the Île d'Ouessant where he lives and to read poems.
This is how he developed the concept album EUSA ("Ouessant" in Breton). Each piano piece gives homage to a location on the island through recordings of the environment, GPS co-ordinates and photos of his wife, as well as her voice reciting text by the Breton poetess Anjela Duval.
He says: "Ouessant is much more than my home - it's part of me. It was a matter of drawing a map of the island and therefore a map of who I am."
Porz Goret, the piece we wanted to introduce to you here, translates as follows: the Porz is the shoreline and the Goret is a ballast net of stones left on the porz at low tide. At high tide, the goret stands vertically thanks to buoys and allows fish to be caught.
The atmospheres created by Yann Tiersen remind us of other pianists of our era such as Ludovico Einaudi and Yiruma, whom we mentioned just now.
If you're not a complete beginner on the piano, don't hesitate to play the Tomplay sheet music of Porz Goret by Yann Tiersen. It is classified at intermediate level in the app and can be easily sightread. Take advantage too of the performance by Yann Tiersen himself, synchronised with the sheet music.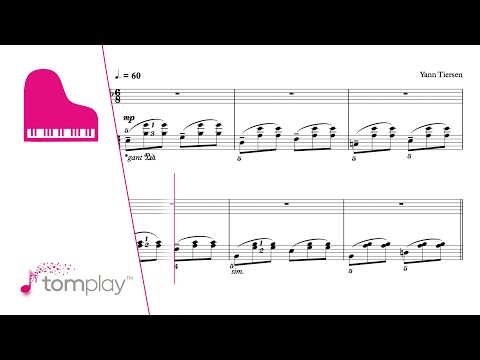 9. Schumann - Scenes from Childhood, Opus 15 - No. 1 "Of Foreign Lands and Peoples"
Through his Scenes from Childhood, Robert Schumann unveils his interest for the romantic cult of childhood. Are they pieces inspired by his own childhood, that of Clara Wieck, the love of his life, whom he met when he was nine years old, or a clever mixture of the two?
On 17 March 1838, he wrote to Clara: "Is it a response to what you wrote to me one day, that "you make me think of a child sometimes"? If it is, you will see that this child has grown wings, as I have written more than thirty short pieces and have chosen a dozen of them which I will bring together under the name Scenes from Childhood. You will doubtless enjoy playing them, but you will have to forget that you are a virtuoso. You will have to restrain from effects, but let yourself go with their very simple, natural and unadorned grace".
That year, he also composed several masterpieces for the piano, including his Kreisleriana, contrasting by their tormented character more appropriate to the troubled period the composer was going through at this time.
The first piece in this Cycle and one of the most well-known, "Of Foreign Lands and Peoples" invites the player to work on the technique of the left hand and to understand the two voices which it brings together, in addition to the joyful melody of the right hand. It is a very good exercise for working on the independence of the fingers.
You will find the sheet music with fingering in the Tomplay app. It also contains a performance by the pianist Vladimir Horowitz which you can listen to as you like and which will make the process of learning the piece easier.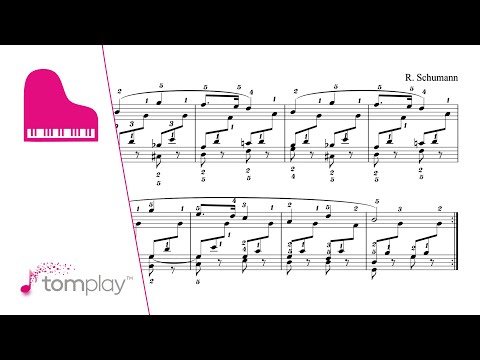 10. Handel - Suite No. 1 in B flat major, HWV 434 - IV. Minuet (Arr. W. Kempff)
To end this gentle journey, we wanted to introduce you to our hidden gem: less well known that the Sarabande in D minor from Suite No. 4 which is heard particularly in Stanley Kubrick's Barry Lyndon, this Minuet from Suite No. 1, also composed by Handel, is a little graceful jewel.
The melancholy key of this minuet in G minor and the moderate 3-beat tempo characteristic of the minuet - in which dancers used to make "dainty" little steps - give this piece the quite individual charm of the baroque style.
Although the date of composition of this minuet remains mysterious, we can guess that it was published for the first time in 1733 in the Suite de pièces collection.
Just like other keyboard pieces composed by Handel, this minuet was originally designed for the harpsichord. The arrangement by Wilhelm Kempff - including in particular the addition of octaves and arpeggio chords, as well as an enrichment of the harmony - is aimed at highlighting the tones of the piano.
You can find his own performance included in the Tomplay interactive sheet music of the Suite No. 1 in B flat major, HWV 434 - IV. Minuet and take advantage of the many functions allowing you to make learning easier and play your favourite piano pieces in an even more fun way.