The 10 most beautiful pieces by Bach to play on the piano
In this article, we have selected ten of Bach's most beautiful works for you to play on the piano. Find out all about the history of their composition and choose which piece you want to sight-read and play! You can also find all the scores for piano with their fingering in the Tomplay app.
1. The Well-Tempered Clavier, Book I - Prelude and Fugue No. 1 in C Major, BWV 846
▶️ Play the Prelude and Fugue No. 1 in C Major, BWV 846
▶️ See the Tomplay Collections of both books of the Well-Tempered Clavier
The Bach family is the most prolific family of musicians in history and Johann Sebastian Bach was its most distinguished member. His career and life were spent in central Germany. He never obtained a post which did justice to his talent, working for small towns of little importance and then in Leipzig, where he was only shown very slight appreciation.
Taken from the first book of the Well-Tempered Clavier, the Prelude and Fugue No. 1 in C Major, BWV 846 is among Bach's most famous works and occupies a special place within classical music. Its apparent simplicity takes nothing away from its perfection, and for good reason: it was re-worked by the composer several times before obtaining its final form.
This composition, full of arpeggios, was transcribed, arranged and reinterpreted in many ways and still is today by contemporary artists. With regard to this, Gounod's Ave Maria, which marries a Latin text to the arpeggios, remains a major reworking of the Prelude.
Bach composed the first book of the Well-Tempered Clavier in 1722, while he was working in Köthen for Prince Leopold d'Anhalt-Köthen. The second book was written in Leipzig twenty-two years later. In the 1770s, these two books became a reference in music and, in particular, were studied by Haydn and Mozart.
There are three educational interests in this Prelude: firstly, the simplicity of sight-reading. The alternating of the two hands and the arpeggiated chords largely facilitate reading the music and make it accessible to pupils with little experience. As far as its playing is concerned, it does not feature a great deal of subtlety, as the work was composed for the harpsichord; the pianist can therefore work on his own performance. Finally, its style is close to that of a study and allows the pianist to work on playing smoothly.
Use the many Tomplay functions to help you learn this Prelude in the best possible way: adjust the tempo of the metronome for sight-reading, annotate your score, work on tricky passages in a loop and listen to Maurizio Pollini's performance for Deutsche Grammophon just for pleasure or for inspiration.
2. Adagio in D Minor, BWV 974
▶️ Play the Adagio in D Minor, BWV 974
It was his father and then his brother who looked after the musical education of the young Johann Sebastian, but the young prodigy was also self-taught and curious about his past and contemporary peers, wanting to understand and discover other works and other styles in order to develop and polish his own composition style.
As he was very curious to discover the work of his neighbours, Bach found out about many French and Italian composers such as Lully, Couperin and Rameau and Vivaldi, Corelli and Albinoni.
In Weimar, where he was an organist and first violin at court, he had the chance to read the score of the Oboe Concerto in D Minor by Alessandro Marcello. Touched by the work, he decided to transcribe it for solo harpsichord and the Adagio in D Minor, BWV 974 was born.
It remains as faithful as possible to the original text, yet modifies the musical discourse through the addition of rhythmical variations or harmonic enrichment. The ornamentation of this transcription is one of the most successful of the Baroque period and is a reference in this regard.
Play the Adagio in D Minor on solo piano with Tomplay: the score scrolls automatically on your screen so that you never have to turn the pages. Moreover, the separate hands function allows you to practise one hand, accompanied by the professional recording of the other hand.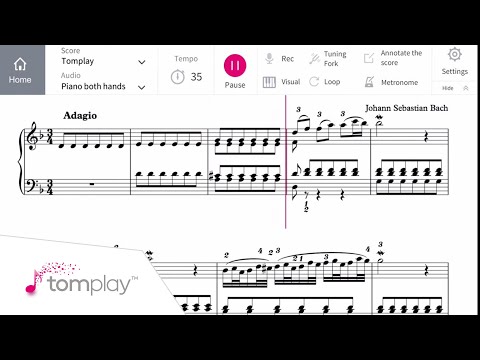 3. Jesu, Joy of Man's Desiring, BWV 147
▶️ Play "Jesu, Joy of Man's Desiring", BWV 147 on solo piano
▶️ Play "Jesu, Joy of Man's Desiring", BWV 147 for four hands
Johann Sebastien Bach mastered several instruments including the violin and viola, but above all the harpsichord and organ. He was able to play at first sight, to improvise several voices and was also known for his skill in making instruments.
Here is another unmissable piece from Bach's repertoire: "Jesu, Joy of Man's Desiring" is the final Chorale from Herz und Mund und Tat und Leben ("Heart and mouth and deed and life"), BWV 147, a religious Cantata composed in Leipzig and performed on the occasion of the festival of the Visitation of the Virgin Mary.
This work was composed for four soloists plus a choir of four mixed voices (soprano, alto, tenor and bass), as well as trumpet, oboe, violin, viola and basso continuo.
From the very beginning, the melody of the Chorale is essentially composed of triolets. Several arrangements of this work exist for solo piano and also for four hands.
The solo piano version which can be found in the Tomplay catalogue includes a performance by Rafal Blechacz, to listen to simply for pleasure or for inspiration. As for our version for four hands, it includes the professional recordings of both parts (primo and secondo) allowing you to play either of the parts with an accompaniment, even if you are playing alone.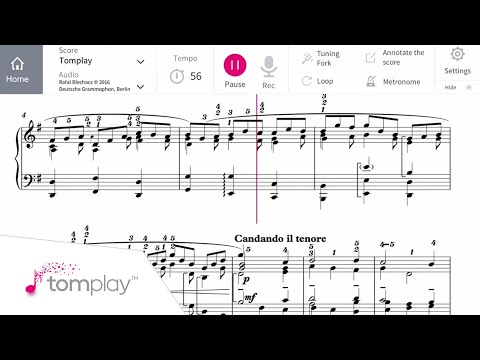 4. The Well-Tempered Clavier, Book I - Prelude and Fugue No. 2 in C Minor, BWV 847
▶️ Play the Prelude and Fugue No. 2 in C Major, BWV 847
Bach did not create a new musical form. Indeed, he was rather conservative, in spite of his curiosity which made him experiment all styles, with the exception of opera. Bach was the master of balance between counterpoint and harmony.
If the first Prelude of the first book of the Well-Tempered Clavier is accessible from the first year of studying the piano, this is not the case with the second Prelude, with its playful sounds, borrowing from the style of a tempestuous and wayward, perpetually changing Toccata.
The Prelude is presented as a study in two voices, where the movement of the two hands for a symmetry, as if reflected in a mirror. Practising this work is perfect for developing the independence of the hands and for loosening the fingers. It also allows you to work on your speed and it is impossible to be bored with the many different ways of playing that this composition offers.
Thanks to our partner Deutsche Grammophon, you can listen to the performance by Maurizio Pollini synchronised with the scrolling of the score, just for pleasure or for inspiration.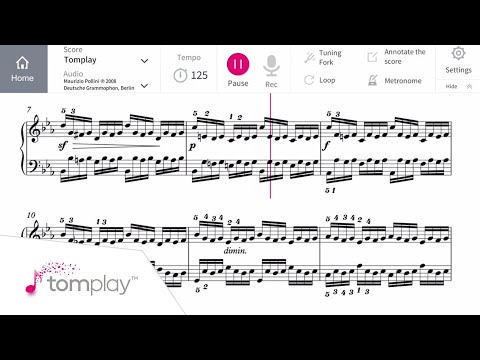 5. Suite No. 2 in B Minor, BWV 1067 - VII. Badinerie
▶️ Play our arrangements of the Badinerie for piano
Bach was often considered by his contemporaries to be a cold and severe, not very approachable person. After having passed on his knowledge to his pupils and his sons, he devoted the end of his life to bringing together, classifying and finalising some of his own works, thus assembling a kind of "musical will".
As in the majority of Bach's Overtures, the second Suite ends in a very lively finale. Playing the joyful, bright Badinerie presents some difficulty for the soloist, who has to demonstrate his or her worth throughout this Suite.
It is constructed in the form of an Italian concerto, on very German foundations. Its composition was largely inspired by Lully, the instigator of the model of this kind of Parisian Suite at the court of King Louis XIV. Scholars have even wondered about the relative absence of Suites in Bach's repertoire and have concluded that he did not think he had sufficient mastery of the genre to publish more, which is astonishing, given their success!
Playing the Badinerie is an excellent way of working on your speed and interpretation. Moreover, our arrangements of this work for several levels make it accessible to all pianists! You can decrease the tempo to work slowly with the professional orchestral accompaniment synchronised with the score and help yourself with the "annotate the score" function, or opt for our arrangements for solo piano.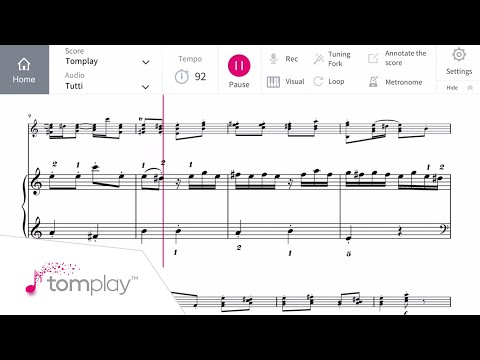 6. Suite No. 3 Aria in D major
▶️ Play our arrangements of the Air from the third Suite in D Major for solo piano
Bach was little known outside Germany during his lifetime. After his death, his work was considered old-fashioned, before being re-discovered in the 19th century and being recognised as the absolute culmination of Baroque musical tradition.
We're going to look more closely now at the third Suite in D Major, BWV 1068. Unlike the Brandenburg Concertos, these Suites are independent of each other. Specialists even explain that the movements are assemblies, either of recent or dedicated compositions or of different arrangements of previous works.
The famous Air on the G String is the second movement of this orchestral Overture. Its solemn melody appears suspended in time and takes us back to festive moments in the prestigious courts of the time.
We have arranged this superb Air for solo piano, in three levels of difficulty. Lose yourself in playing this work, whatever your level, and listen to the professional recording of the piece included with the score to help you get rehearse and play this work.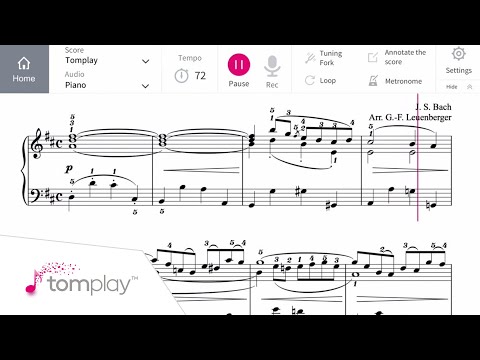 7. Concerto No. 1 in D Minor, BWV 1052
▶️ Play the Concerto No. 1 in D Minor, BWV 1052
In a little over ten years, Johann Sebastian Bach made a name for himself among the very great musicians and composers of his era. He aspired to becoming Chapel Master (Herr Kapellmeister) in the chapel of the Duke of Saxe-Weimar, but he was refused the post. The Duke then threw him into prison for his stubbornness in wanting to fill the same post in another chapel, that of the court of Köthen.
Bach wrote eight Concertos for solo harpsichord (BWV 1052 to 1059). At the time, he was concert director at the Collegium Musicum in Leipzig and had to continually supply new pieces, while at the same time refreshing the repertoire of his own sons.
It is for these reasons that the composer arranged some of his previous works for the piano, as was the case with the Concerto No. 3 in D Major, BWV 1054, directly inspired by the Violin Concerto in E Major BWV 1042.
As far as the Concerto No. 1 in D Minor, BWV 1052, is concerned, there are several versions of it. A demonstration of the composer's affection for this work is that he revisited it several times.
Use the Tomplay functions to help you rehearse one or several movements of this brilliant Concerto and play accompanied by the professional orchestral recording, recorded by us.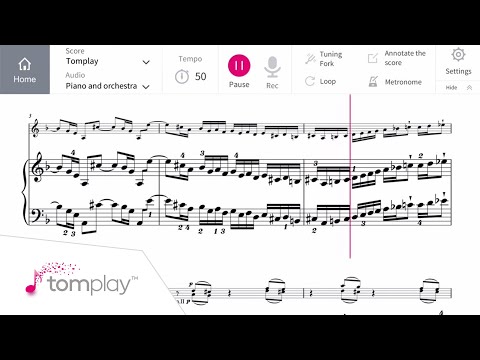 8. Invention No. 1 in C Major, BWV 772
▶️ Play Invention No. 1 in C Major, BWV 772
▶️ Play the 15 inventions for two voices, BWV 772 - 786
After having successfully freed himself from his former professional duties, Bach had to face the death of his first wife, with whom he had had seven children. She was struck down by a devastating disease while her husband was far away and was buried before he had even had a chance to return home. It was at this time, however, that his first book of the "Well-tempered clavier", his "Suites Françaises" and his "Inventions and sinfonias" were born.
During his last years in Köthen, and in collaboration with his son Willhelm Friedemann, Bach composed thirty Prelude-style pieces for teaching purposes. He brought them together in a collection entitled Inventionen und Sinfonien.
The latter includes fifteen inventions for two voices and fifteen fugues for three voices. Here is Bach's own note regarding this collection, in order to underline its use for teaching:
"Forthright instruction, wherewith lovers of the clavier, especially those desirous of learning, are shown in a clear way not only to learn to play two voices clearly, but also after further progress, to deal correctly and well with three obbligato parts, moreover at the same time to obtain not only good ideas, but also to carry them out well, but most of all to achieve a cantabile style of playing, and thereby to acquire a strong foretaste of composition."
The separate hands function offered by Tomplay greatly facilitates practising the first Invention in C Major with both hands and it even becomes a game, thanks to the rhythms alternating from one hand to the other.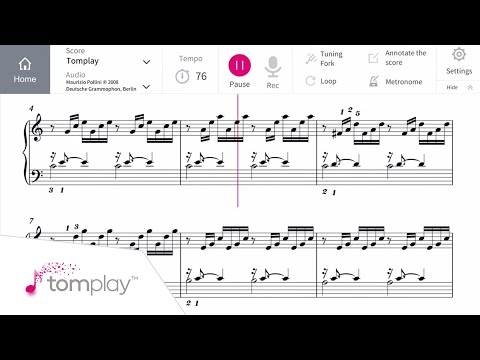 9. Minuet in G Major, BWV Anh. 114
▶️ Play the Minuet in G Major, BWV Anh. 114 on solo piano
Johann Sebastian Bach was married a second time, to Anna Magdalena Bach, who gave him thirteen children, of whom seven died young. He went through his Leipzig period with her, where he became Cantor in the church of Saint Thomas in Leipzig. He composed 300 cantatas there, as well as many masterpieces such as his Passions according to Saint John and Saint Matthew, the Goldberg Variations and also the second book of the Well-Tempered Clavier.
A typical Bach work, the Minuet in G Major is taken from the Little Notebook of Anna Magdalena Bach, the composer's second wife. This collection contains a variety of Baroque dances such as the minuet, gavotte, musette, march, rondeau and polonaise, a wonderful introduction to Baroque-style two-voice counterpoint.
As well as Bach's compositions, the pieces in the collection contain works from the pens of many other Baroque composers who were close to the composer, such as Johann Christian Bach, Carl Philipp Emanuel Bach, Johann Gottfried Bernhard, Johann Gottfried Heinrich, Christian Petzold, Georg Böhm and François Couperin. However, many pieces from Anna Magdalena's notebook still remain anonymous.
The Minuet in G was attributed to Johann Sebastian Bach up to 1970, before being universally reattributed to Christian Petzold, a German composer, harpsichord player and organist.
This Minuet BWV Anh. 114 is a piece accessible to pupils in their first or second year. Through this work, the pupil can get to know the Baroque world and Bach's style of writing and play his or her first trills.
The Tomplay functions will help budding pianists to understand and play this piece, thanks to the automatic scrolling of the score on the screen synchronised with the professional recording of the piece included in the score.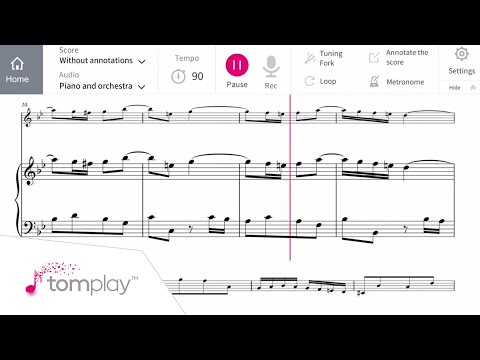 10. Concerto No. 7 in G Minor, BWV 1058
▶️ Play the Concerto No. 7 in G Minor, BWV 1058
Tormented and often misunderstood, Bach could not have guessed that his work would still be played and admired more than 250 years later. He has left more than a thousand compositions of all types. Other great composers such as Haydn, Chopin and Mozart paid great attention to his scores and often taught them to their own pupils. An interesting character and Baroque composer par excellence, Bach left us an immense body of work which is still used as a reference today.
The Concerto No. 7 in G Minor was probably Bach's first attempt at writing a full concerto for the harpsichord. He was inspired by Violin Concerto BWV 1041, transcribed into a lower key in order to adapt to the harpsichord's tonality.
It is said that Bach was unhappy with the composition of this first concerto. However, the orchestra positions itself to support the harpsichord and showcases it.
Take advantage of the professional recording of the orchestra part and play accompanied by dozens of musicians, as if you were there! You can play the part of the solo pianist and play this magnificent Baroque work with Tomplay.