The History of Jazz: 5 Brilliant Jazz Musicians
It's difficult to whittle down the history of jazz music to a mere few paragraphs, because it is a very rich musical style. The origin of jazz music can be traced back to New Orleans, USA in the late 19th century. In the 20th century, the American Civil Rights Movement contributed greatly to the development of jazz music as an expression of decades of slavery, with the genre mixing blues, ragtime and spirituals. Since then, more than a dozen sub-genres have evolved, such as swing, gypsy jazz, cool and free jazz. In jazz music, you can often hear the following six instruments: saxophone, trumpet, clarinet, trombone, drums and double bass.
There are many brilliant jazz bands and musicians. In this article we would like to showcase five of these iconic people: Louis Armstrong, John Coltrane, Ella Fitzgerald, Miles Davis and Frank Sinatra.

Louis Armstrong (1901-1971)
Let's start with the exceptional jazz musician Louis Armstrong, nicknamed Dippermouth, Pops or Satchmo because of his unusual embouchure. Not only did he impact generations of people with his voice, especially with What a Wonderful World and Hello, Dolly!, he is also considered one of the most talented trumpeters in the history of jazz. It's thanks to him that the trumpet became a widely accepted solo instrument in the genre.
His incredible improvisation skills also led to him being seen as the inventor of vocal jazz. The story goes that after dropping sheet music during a recording session, he thought on his feet and began to improvise with nonsensical words. This recording became one of the first modern songs to use scat singing!
Armstrong was born in 1901 in a poor neighbourhood in Louisiana and was raised by his mother. After committing petty crimes during his teen years, he ended up in a juvenile detention centre, where he discovered music and learned to play the cornet. When he left the centre in 1914, he began to replace artists in jazz bands in Storyville (the red-light district of New Orleans). And what better way to learn than at private jazz clubs? He met many great jazz musicians and played with the group "Fate Marable"on a boat that sailed up the Mississippi River. In 1922, Storyville closed and the musicians left for Chicago. Armstrong joined the Creole Jazz Band as Joe King Oliver's second trumpet player, and began to make a name for himself playing in big bands in New York. He also accompanied great singers such as Bessie Smith, Ma Rainey and the Dreamland Syncopators. Throughout the 1920s, he made his mark in the Vendome Orchestra, with whom he played some of his greatest hits.
At this point, he was famous for his revolutionary playing, such as his solo trumpet performance in the song West End Blues. Everything was going well and he was building an incredible career. However in 1935, he developed a muscle disorder in his mouth which changed his playing. He never managed to get his virtuosic playing back, but that didn't stop him from touring all over Europe in 1939 and continuing to record music. One of his biggest hits at the time was C'est si bon, a song by Suzy Delair which he recorded in 1950.
Along with an incredible number of achievements, Armstrong firmly established himself in the jazz world as a gifted trumpeter, improviser and singer, thanks to his unique voice. Fun fact: he has an asteroid named after him!
If you'd like to explore the universe of Louis Armstrong, Tomplay can help. We have songs like What a Wonderful World, Mack the Knife and Hello, Dolly! available for various levels and instruments (sax, piano, flute, violin, clarinet, and more!).

John Coltrane (1926-1967)
Our next talented jazz musician is the saxophonist and composer John Coltrane who performed with incredible musicians like Miles Davis and Thelonious Monk. Coltrane is notably known for having helped make the saxophone a fully-fledged instrument in its own right within the orchestra. Coltrane played various instruments: his main instruments were the tenor and soprano saxophones, but he also played the flute, clarinet and drums. He was known for his fast musical playing and his speciality was a technique named sheets of sound - this is when he would play notes and scales in quick succession.
He was born in 1926 into a religious family in North Carolina, and this spiritual influence inspired him and contributed towards his music. In 1938, he lost several members of his family very suddenly, including his father, an aunt and his grandparents. He therefore was raised by his mother who gave him his first alto saxophone. At university he played and worked in a restaurant jazz band and was greatly influenced by recordings of saxophonist Charlie Parker. During his military service from 1945 to 1946 at Pearl Harbour, Coltrane was accepted into the navy band without having to sit the usual tests required of musicians. On his return, he began to study music with guitarist Dennis Sandole. Unfortunately he later developed a long struggle with addiction, which was eased by a so-called 'spiritual awakening' in 1957. From 1959 to 1961, he recorded for Atlantic Records, including the hit Giant Steps, which is now considered one of the most complex jazz scores. As mentioned before, John Coltrane was known to be very spiritual. He had a real cult following and believed that he could understand people's emotions and control them through music. Several cults even began worshipping him as God incarnate after his death, using his jazz music as liturgical music.
Whether you're a saxophonist (alto, soprano or tenor), a trumpeter, a flautist or a player of any other instrument, Tomplay has a wide choice of jazz sheet music for various instruments. Browse our jazz sheet music by John Coltrane, suitable for a variety of levels, with or without the accompaniment. Songs include Blue Train, Mr. P.C. and more.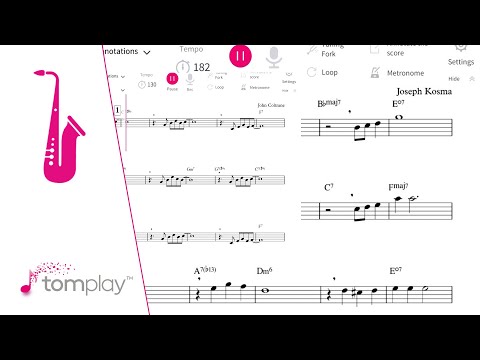 Ella Fitzgerald (1917-1996)
Jazz music was not only a way for the African American community to express themselves, but it also allowed women to take the spotlight, particularly during the Women's Rights Movement. Ella Fitzgerald is one of the most important female figures in the history of jazz music. The songs she sang were written especially for her by renowned composers such as Duke Ellington, Cole Porter and George Gershwin. She toured all over Europe and became famous in the jazz world thanks to her unique voice and incredible scat singing skills.
Ella Fitzgerald was born in Newport, Virginia, in 1917. However her mother decided to move to New York after her father left the family home. She remarried and Ella grew up in a happy family with plenty of money. Ella originally wanted to become a dancer, while her family wanted her to work in music. She entered several singing competitions, including one at the Apollo Theatre in Harlem in 1934. She won the competition and this marked the beginning of her career: she was even hired by Bardu Ali to lend her voice to Chick Webb's band. Her career took off and she tried her hand at various styles including scat, bebop, swing and blues. A key period in her life was the 1940s. It was the height of racial segregation in the USA, and despite her fame in the jazz world, she also suffered racial and gender discrimination. However, she was supported by many influential figures like Marilyn Monroe, one of her biggest fans, who persuaded the Mocambo Club in Los Angeles to accept Fitzgerald as a performer.
Ella Fitzgerald's songs are covered so often these days that there is no way to know how many covers exist. Tomplay offers a wide range of Ella Fitzgerald jazz sheet music such as Cheek to Cheek, Cry Me a River, All The Things You Are and more, available for various instruments and levels.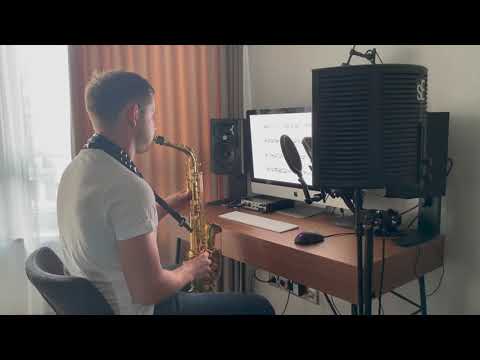 Miles Davis (1926-1991)
Miles Davis is another legend in the history of jazz music, a genius trumpeter and an outstanding composer. His musical style can be summed up as structured and original, combined with new musical concepts.
Miles Davis was born in 1926 on the banks of the Mississippi River into a wealthy family - his father was a dentist. His family then moved to East St. Louis where he unfortunately discovered racism. He eventually found his passion in music thanks to a friend of his father who gave him his first trumpet. From 1939 onwards, he benefited from a high-quality musical education and his teacher helped him to work on techniques such as vibrato and other techniques made famous by trumpeter Bobby Hackett.
A few years later he graduated as a music teacher, while also performing in the city's private jazz clubs. This was incredibly impressive given Davis' young age, as it was often difficult to get into these places. One day, his girlfriend at the time challenged him to call the head of the group The Blues Devils, Eddie Randle, in order to try out for the group. He ended up playing with them for two years, until 1944. But this was not enough for him and he moved to New York to study at the Juilliard School of Music. Although he was given a top-tier education, he preferred to spend his time in the city's private clubs, where he met great jazz musicians like Thelonious Monk and Billie Holliday.
In 1945 he recorded for the very first time with his band. As he began to make a name for himself in the jazz world, he had to deal with the drug problems of his fellow musicians. Then, everything came together, and in 1949 he took part in the Paris International Jazz Festival, where he met the love of his life: Juliette Gréco. It was love at first sight! Unfortunately, they lived in a world where racial segregation was the norm, mainly in the USA, therefore it was difficult to develop a relationship. On his return from Paris, Davis began to lose his footing and gradually fell into drug addiction. However, he managed to get back on track. In the years that followed, and up until his death, he adapted his style to new styles of jazz music, such as electronic and disco. A recording session with Prince is said to have taken place in the 1970s, but these recordings have never been released.
Tomplay would like to help you play some of the great Miles Davis classics, so we have put together a special catalogue of jazz sheet music for various instruments and levels.

Frank Sinatra (1915-1998)
To round off this article of 5 brilliant jazz musicians, we have chosen to highlight none other than Frank Sinatra. This pillar of jazz music built an impressive 60-year career, starting in 1935 in a small band. He also appeared in a number of films and musicals. While his main form of singing was in jazz music, Sinatra also performed other styles like blues, swing, bossa nova, rock, twist and disco. Surprisingly, the charm of his deep voice came from his addiction to alcohol, which apparently helped him to hit the right notes.
Sinatra was born in 1915 to an Italian immigrant family in New Jersey, and was an only child. His family opened a speakeasy during the Prohibition era, which became his first playground as a young singer. Sinatra had been passionate about singing ever since he heard Bing Crosby on his mother's radio. However, it's important to note that he was born with hearing problems due to a punctured eardrum, which only worsened with age. From 1935, he performed with the Hoboken Four at the Rustic Cabin, a restaurant in the city with live shows broadcast on New York radio. This is how he was picked up by trumpeter Harry James. In 1940, his career took off and he performed for Tommy Dorsey's group The Pied Pipers. Then the Second World War happened: Sinatra did not serve in the army because of his hearing issues. Some people however were not happy about this, accusing the singer of shirking his duties.
In 1942, he performed solo at the Paramount Theatre in New York, making way for the so-called "Sinatramania". Around this time, he also began developing his acting career. This made him part of the celebrity elite, and he even performed on a TV special to welcome Elvis Presley home from the army in 1960.
Unfortunately, Frank Sinatra is said to have had some shady connections with the Italian mafia at the time. His first wife was none other than Nancy Barbato, a cousin of the brothers of the same name who were known mobsters. Sinatra even allegedly helped carry money for the mafia at the 1946 Mafia Havana Conference.
If you want to continue to travel through the history of jazz with Frank Sinatra, try some of our famous jazz sheet music songs. Play Fly Me to the Moon, My Way, New York, New York, and many other jazz sheet music arrangements. These are available for various instruments and levels on Tomplay.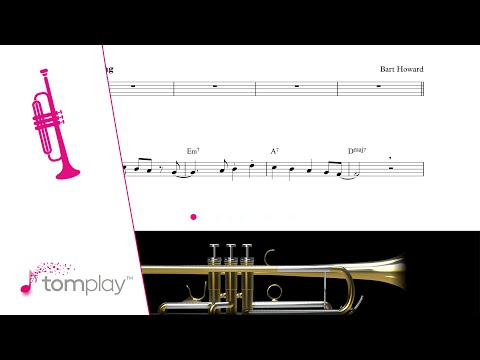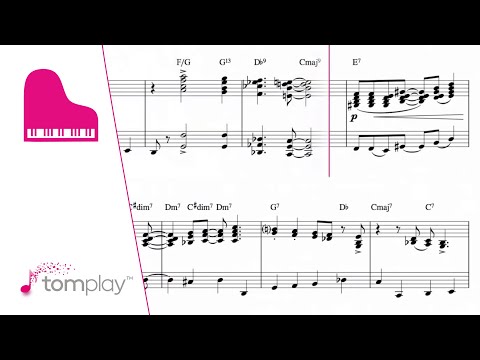 Jazz music is above all a form of expression and these five brilliant jazz musicians showed this through their legendary pieces. Jazz does, however, remain a complex music genre to play and/or improvise over. While the accompaniment is important, the real trick to mastering jazz is originality.